Check out new low pricing on many items in the Tripawds Fitness Shop, including the new FitPAWS Donut option with inflatable holder ring!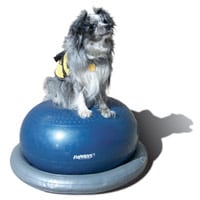 The new FitPAWS Donut Holder is an inflatable ring that helps stabilize the FitPAWS Donut. This is a good training tool if your dog is new to the FitPAWS Donut's dynamic movement. You can start off with the Donut in the Holder and as your dog gains more core muscle strength and learns how to control his balance, you can remove the Holder and challenge him with the Donut directly on the floor.
Try using the FitPAWS Donut Holder as a hand-held jump-through ring for trick training, agility tire jump training and fun aerobic exercise with your family dog.
The FitPAWS Donut Holder easily inflates with a standard air pump with cone-shaped attachment. (not included.) Do not over inflate the Donut Holder. It should have just enough air in it to feel firm to the touch and help stabilize the Donut.
The Holder must be purchased with FitPAWS Donut. See options and pricing for all FitPAWS canine conditioning gear in the Tripawds Fitness Shop.
Watch the video below to see the FitPAWS Donut in use with and without the holder. Then read our Donut review for more information, or visit the Tripawds Fitness Shop for more great FitPAWS canine conditioning equipment!