Great news for three legged dogs: Ruff Wear has redesigned the Webmaster Harness for a better fit and more durability!
New Webmaster Harnesses will be available on April 1.
Until then, current inventory is being sold until it's gone.
Stock is dwindling fast, so if you need one, get yours now!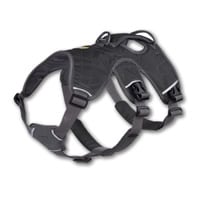 We don't have a new model in our paws yet, but it appears the new design has a more contoured fit and better adjustability.
Sizing will change slightly and the new Webmaster will come in a "Twilight Gray" color, along with the popular Red Currant. Black is being phased out.
Plenty of Obsidian Black harnesses are in stock as of today, but that will change quickly. Red Currant is sold out in sizes Medium, Large and Extra-Extra Small.
Existing Webmasters will sell out before April 1.
Order yours today!

Check these online retailers if your size is sold out.
New Webmaster Harness Features
Four years have elapsed since the harness has been modified. This awesome assistive aid is better than ever.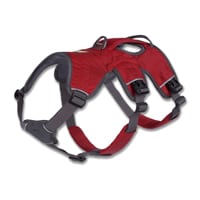 Ruff Wear says the key features of the redesign are:
Efficient, easy-to-clip sheltered buckles keeps straps firmly in place over time
Anatomical design provides controlled, comfortable and balanced lifting with good load dispersion
Customizable fit with five points of adjustment allow for full range of motion
Secure design for even the best "Houdini" dog
Foam-padded chest and belly straps for comfortable, extended wear
Two points of connection: aluminum V-ring leash attachment up front or the webbing loop at the rear
Need a Webmaster? Now is the time to order yours!
Is your size sold out? Check these other online retailers.
See Ruff Wear Webmaster Sizing Tips to get the right size.