Confused about the best Ruff Wear Webmaster harness size for your Tripawd?
Dogs come in all shapes and sizes, but the Webmaster nearly always fits every type of dog. The trick is to first measure correctly: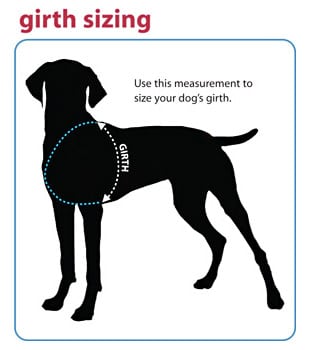 Harness Sizing:
Measure your dog's girth around the widest part of his/her rib cage. It is girth size, not weight, that determines proper fit.
For in-between sizes, Ruff Wear recommends selecting the smaller harness for an active, contoured fit.
Size

Dog Girth

XXS
12″-19″
30-48 cm
XS
17″-24″
43-61 cm
S
21″-30″
53-76 cm
M
26″-36″
66-91 cm
L
32″-48″
81-122 cm
 
For more fitting instructions, read these tips on how to adjust and fit the Web Master in "How to Make a Good Introduction to the Ruff Wear Web Master Harness."
Still unsure about the right harness size? Take this Webmaster sizing advice from Lylee's Mum:
I always thought a medium would fit her better and guess what – it did! It did look small before i put it on her but once fitted it looked great and actually works better. On the larger harness the straps had lots of excess hanging down and is a bit long, with the medium I maxed out the shoulder straps and the front girth strap had about 2 inches of extra and the 2nd strap has plenty more about 5 inches. (Lylee thinks it makes her look slimmer too 🙂
Watch Lylee having fun in her original Webmaster harness on the beach, then order yours today!