At first glance, FitPAWS Paw Pods might seem too challenging for a Tripawd dog to tackle.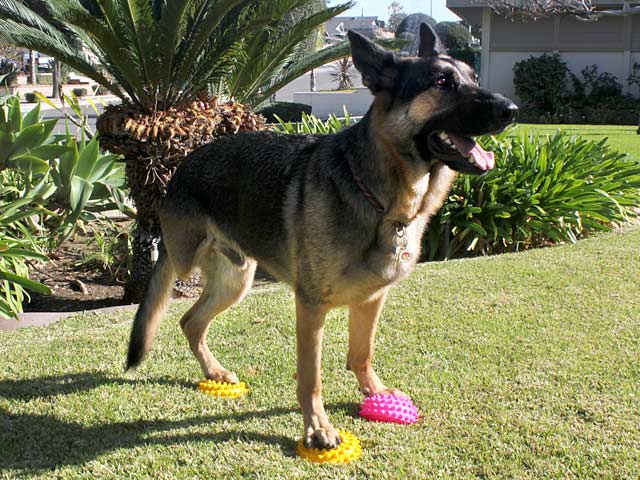 But with steady practice they make a fantastic strength-training activity for your canine amputee!
Strengthen with FitPAWS Paw Pods
About one year ago, we started teaching Wyatt Ray how to balance on Paw Pods. Today, Wyatt can stand on all three pods as we feed him his favorite treats. He makes it look easy, but it wasn't always such a breeze . . .
At first Wyatt hated Paw Pods. He was a foot-phobic dog and would fight whenever our hands came anywhere near his paws.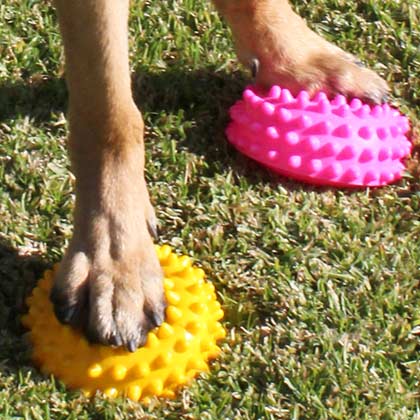 Before we could envision the ultimate goal of having him place all three legs on three pods, we had to meet our first goal, which was getting him de-sensitized to our touch.
For the first few weeks, we asked him to place one paw on top of a Paw Pod, then rewarded him with a treat. The Pods' nubby surface helped get his feet used to touch.
By the time he would let us place his two front feet on his Paw Pods, we realized we were close to helping him conquer his foot phobia.
Benefits of Paw Pods for Tripawd Dogs
For nearly a year, we've played with the Paw Pods a few times a week.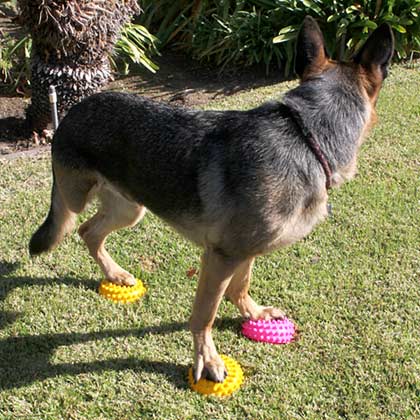 Today, Wyatt can stand on all three! It's a little challenging to place his feet onto them (eliminating distractions is key).
Sometimes it takes two of us to get him up there, but once he's balancing, he'll stay there as long as we bribe him with treats!
FitPAWS Paw Pods, in combination with Wyatt's Giant Balance Disc, have improved the muscle tone of his rear leg.
And there are other positive changes that aren't quite as obvious, but just as beneficial. For example; Wyatt can go on longer walks without his rear end dipping down.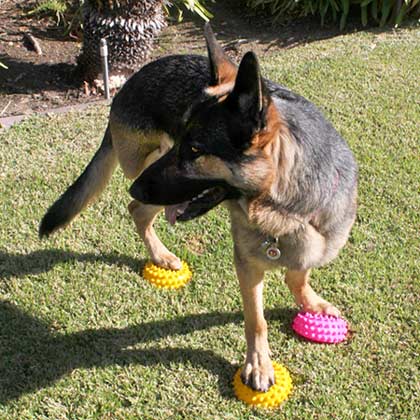 With stronger core muscles, his hind quarters are better supported, which means he has greater endurance during physical activity.
His newfound strength is exactly why we encourage all Tripawd pawrents to cut back a little on walks and spend more time having fun together doing strength-training games, like the ones offered by FitPAWS.
Read More About FitPAWS Gear on our Fitness Page!
Recommended Reading:
FitPAWs Paw Pods Update: Wyatt Ray Gets Stronger
Tripawds Do Amazing Feets with FitPAWS Paw Pods