Incredible dogs from around the world tested FitPAWS dog workout gear at the Purina Incredible Dog Challenge Finals last month in Missouri. From FitPAWS Donut to the fantastic Balance Disc, dogs of all ages and abilities showed their stuff!
See how shaky some dogs are when getting on the FitPAWS gear for the first time? That's because they need stronger core muscles.
Core strength is a fundamental element used by your dog to control its body when jumping, turning, running and to help prevent injuries.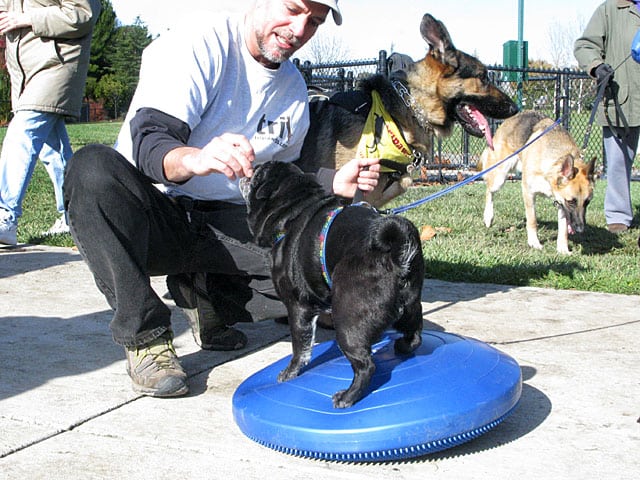 Core conditioning is an essential part of any dog's daily life, but especially for a Tripawd. Having a strong core will improve performance and help prevent injuries. It also brings an increased range of motion and flexibility, neuromuscular facilitation, sensory and perceptual stimulation, joint alignment, and balance control.
Adding this strengthening activity to your Tripawd's weekly play time has many benefits, including:
Improved reaction and control
Increased trunk and core strength
Stabilization of weak areas
Improved balance and proprioception (awareness of the body's position in space)
Increased range of motion in joints & elongation of the muscles
Improved sensory & body awareness
If you haven't tried FitPAWS fun exercise gear, give 'em a try! We know lots of Tripawds who are big fans and see great results from these fun games.
Check out FitPAWS  Equipment in the Tripawds Gear Shop!