Winter seems to be on everypawdy's mind these days, which is why we want to tell you about our favorite cold weather sweater for Tripawds.
Durable Cold Weather Protection for Tripawds and Quadpawds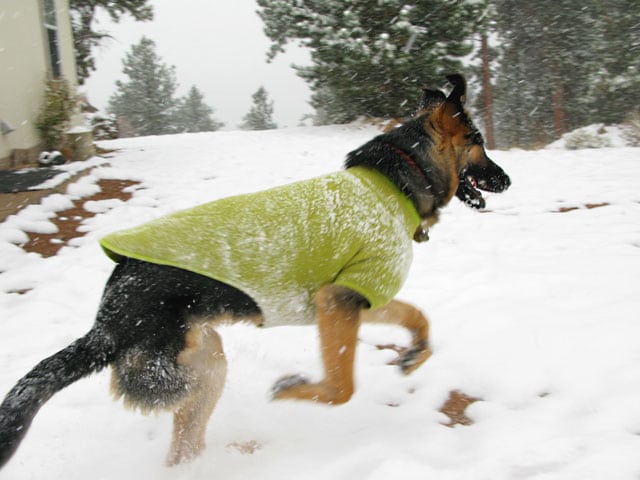 The Climate Changer is one of Ruff Wear's best-selling pieces of protective gear. Out of every dog jacket or sweater we've tried, only Ruff Wear's Climate Changer has the quality that can stand up to the kind of abuse Wyatt Ray can inflict on clothing.
One of the reasons we love this sweater is the way it stays clean even after playing outside. The Polartec® fabric seems to repel dirt and mud, which means he can wear it many times before we have to wash it!
Read Our Original Climate Changer Review Here
Quick dry, breathable soft Polartec® fabric is ideal for Tripawds, especially right after amputation surgery. Gives warmth and insulation without added weight.
It's made from recycled (and recyclable!) materials, and is durable and machine washable. At just $54.95 including shipping, The Climate Changer is one rugged piece of gear that will last for years to come.
Get yours quick before the mercury drops and quantities run low.
Order Your Climate Changer Today!