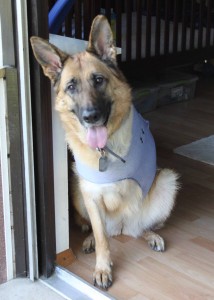 Heidi's mom recently wrote about how she modified an UnderArmour compression shirt to keep Heidi from licking her stitches and protect the incision site from getting dirty.
She didn't have a dog t-shirt for Heidi, so she tried using one of her own t-shirts as recommended by her vet. The t-shirt, however, was too loose, causing Heidi's leg to get caught, tripping her when trying to get up.
Because it was the compression shirt, I figured I would not have the issues with the loose-ness I had with traditional t-shirts.  The issue I did have was with the sleeves.  (Heidi had her front left leg removed) To fix the sleeves required some sewing… [more]
Others have tied the tail end of the shirt so it fits more snug. But using a compression shirt is smart thinking! For those who may not wish to alter a pricey top, the Anxiety Wrap is a snug vest designed for dogs which may do the trick, while serving double duty.
While we naturally want to coddle and hug them to calm them down, doing so can reinforce that behavior. Anxiety research experts say that babying sends them the message that something scary is definitely happening.
Save on Under Armor compression shirts at Amazon,
or consider these calming coats designed specifically for dogs…
Thundershirt Dog Anxiety Compression Coat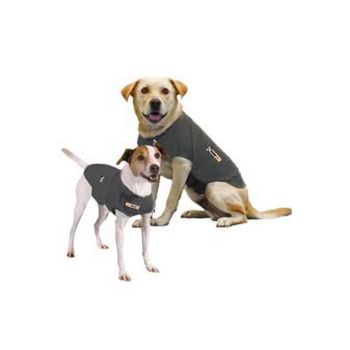 Thundershirt's patent pending design is a pressure wrap that applies a gentle, constant pressure on a dog's torso. It effectively aids anxiety, whether it be due to separation, during travel, or because of a fear of fireworks or thunderstorms. It is also great to help with crate training, leash pulling, hyperactivity and even problem barking. Features: Comes in a wide range of sizes to fit all dogs Also adjustable for a custom fit Gentle pressure has dramatic calming effect Over 80% of dogs show improvement No need for medications Great for dogs with anxiety Also very useful in training Item Specifications: Sizes: XXSmall: dogs less than 7lbs XSmall: dogs 8-14lbs Small: dogs 15-25lbs Medium: dogs 26-40lbs Large: dogs 41-64lbs XLarge: dogs 65-110lbs XXLarge: dogs greater than 110lbs…more
Read our Thundershirts review for an overview of the calming benefits of compression shirts for dogs. Ask your vet about how compression bandgaes can help promote healing and prevent seromas.
The Original Anxiety Wrap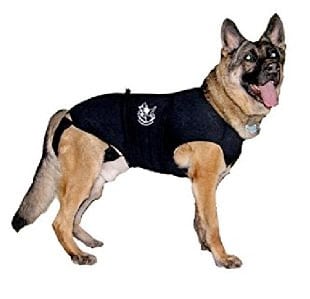 Designed to reduce fear, shyness, thunderstorm phobias and other behavioral problems, The Original Anxiety Wrap is a holistic treatment that reduces anxiety by using gentle "maintained pressure."
Often dogs wearing the wrap will lie down and sleep through the stimuli that previously caused them stress and anxiety. A must for the dog who suffers from fear and/or anxiety of any kind. Color: Black. Sizes (Girth): XS (22-24), S (25-27), M (28-30), L (31-33), XL (34-36), XXL (37-40)…more