Ruff Wear recently wrote in detail about features of Float Coat life jackets for dogs that make them stand out – and float above – all the other doggie life preservers out there. Please visit  the Ruff Wear Dog Blog for details and consider these key features and benefits when shopping for a life jacket to help your tripawd swim this summer!
Float Coat Handle Location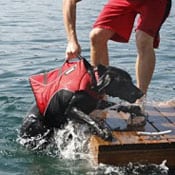 The forward position of the Float Coat handle makes for convenient lifting of your dog out of the water, up steep banks or onto docks. While some dog life jackets have the handle centered over the body, a handle closer to the dog's head makes it more convenient, easier to reach, and provides better weight support. Dogs carry up to 70% of their weight up front.
Float Coat Handle Size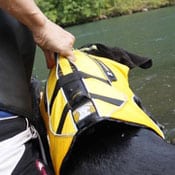 Ruff Wear Float Coats are specifically designed to be low-profile to prevent snagging on debris or foliage in and around the water.
The handle on the Portage and Big Eddy  Float Coats are as low-profile as possible while still being easy to grab and accommodating for big hands.
Engineered Flotation for the Float Coat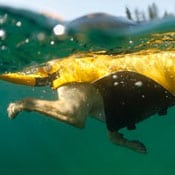 Ruff Wear Float Coats are engineered to keep dogs buoyant in a natural, horizontal swim position to help prevent fatigue and maintain balance.
Too much flotation can cause a dog to easily become unbalanced, forcing them into an unnatural swim position, or making them work extra hard to remain steady.
Float Coat doggie life vests from Ruff Wear are designed to assist dogs when swimming, providing just enough flotation for them to feel confident in the water while minimizing fatigue.
NOTE: A Float Coat is a must-have to make the most out of hydrotherapy sessions and swimming for rehab exercise!
Read our complete Ruff Wear product review and watch the Float Coat demonstration video featuring Jerry to see how your tripawd can benefit from this pawesome product! Or visit the Tripawds Gear Shop to see all recommended Ruff Wear products for three legged dogs.