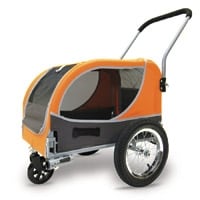 Modern Dog Magazine
is giving away a
Croozer Mini Bike Trailer & Stroller
in their
weekly giveaway contest
!
Hurry, this week's contest for the stroller ends January 7. Act now to win one of two Croozer convertible bike trailer / strollers for pets up to 45 pounds. Makes bringing along your three legged friends easy – wherevever you go! Easily folded for storage/transport.
Please see Modern Dog Giveaways for complete details.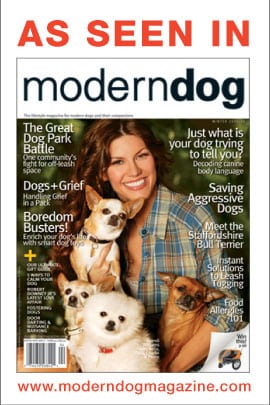 In case you missed it, Modern Dog called Tripawds a "great resource for guardians of three legged pets" in their Winter 2010/2011 issue.
And if you're in the market for a dog stroller/trailer, be sure to review this selection of strollers for dogs big and small! Check out the links below for saving on Croozer convertible dog strollers and bike trailers.
Compare Croozer Bike Trailer Dog / Stroller Prices
Save on the convertible Croozer Bike Trailer Dog Stroller at Amazon.com!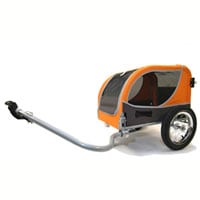 Croozer Mini Bicycle Trailer – A 2-in-1 for your smaller three legged companions up to 45 pounds.
When you don't want to leave the family pet at home, or when the walk is too far for old or young legs, take along the Croozer Mini. Your furry friend will ride in comfort so the whole family can enjoy getting out together.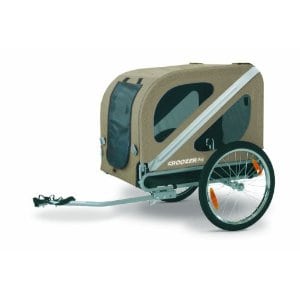 Croozer Dog Bicycle Trailer – Got a bigger dog? Get the original Croozer convertible!
The Croozer Dog bicycle trailer ensures that your three-legged friends won't feel left out. The Croozer has an aluminum chassis with plastic floor, and a bicycle hitch arm with two axle-mounted hitches. The large door makes it easy to put your pup in, with zips at the front and rear for quick access.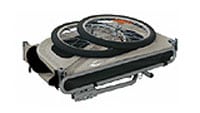 The Croozer Dog folds flat for easy storage. Other features include several side windows to give your dog a pleasant view, an internal eyelet for attaching a dog harness, and 20-inch spoked wheels.