Our search for the best non-slip footwear for dogs continues, and manufacturers are creating new traction footwear that are more than just fashion statements; they provide safety and support for Tripawds and other mobility-challenged dogs who need help getting around slippery floors.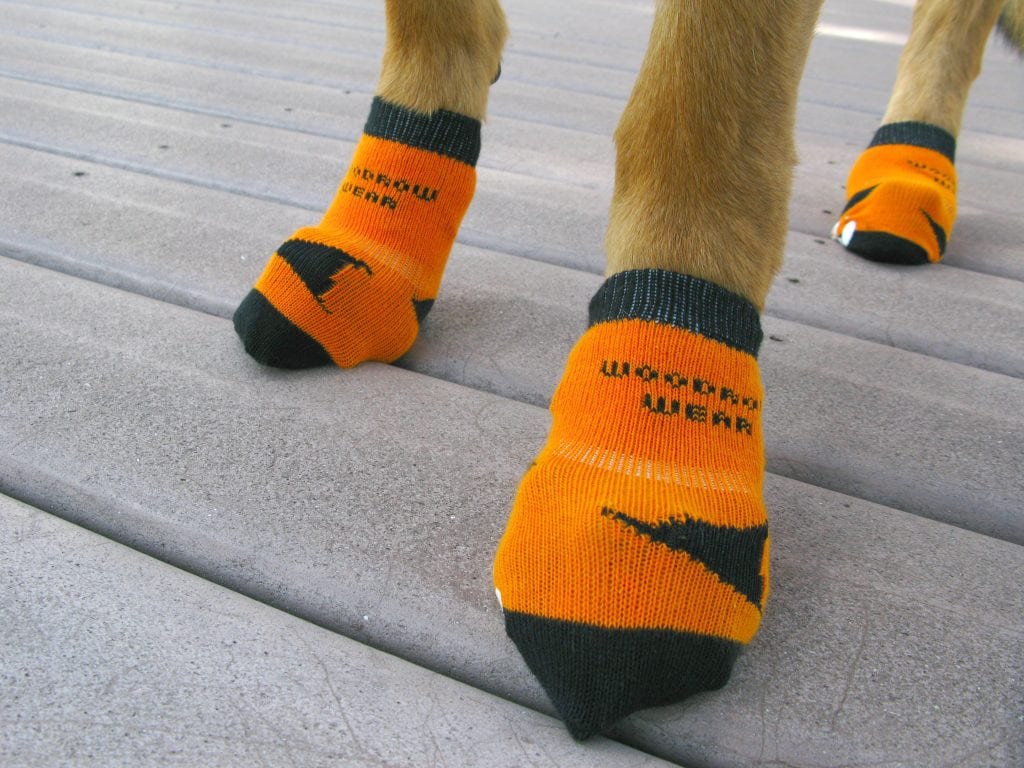 Power Paws Traction Socks
, are a new option for Tripawds. They're made of stretchy, soft cotton that's so light that most dogs will wear them.
Power Paws indoor dog socks
(made by Woodrow Wear) are just $19.99 (plus shipping, U.S. or international) for a four sock-set.
Your Tripawd can wear them all day, and even wear them outside for brief periods of time. To make Power Paws last longer, you can spray a light coating of waterproof spray on them. These socks are machine washable and have a rubber grip bottom that won't crack or harden over time.
Power Paws
has a custom fitting chart PDF you can print and put your dog's paws on, to find the right size. There are eight sizes available for dogs of all sizes, but if you're still not sure what size you need, contact Woodrow Wear.
Power Paws Traction Socks
Product Review at a Glance
Comfortable, soft and easily-worn
Eight different styles and sizes
Stays put, won't rotate when properly fitted
Easy to put in purse or wallet
Long-lasting
Great value
Free fourth sock!
Whimpers
Form-fitting design makes them challenging to put on
Must ensure traction surface is exactly on bottom of foot
Traction pad should be larger to cover big dogs feet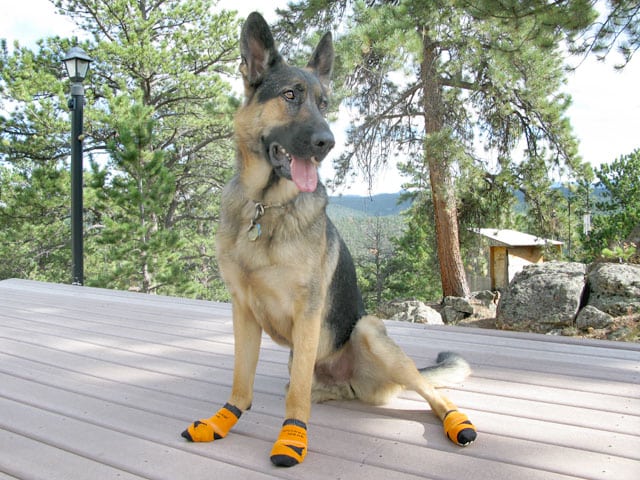 Power Paws
was kind enough to send Wyatt this stylish Halloween pair for him to review for Tripawds.
When we saw the socks, they looked too small for his feet, and appeared to be socks for a newborn baby, not an 80-pound Tripawd!
A Mighty Tool in a Small Package
But we read the instructions, which urged us to give them a try even though they looked too small. They were right! With lots of treats and determination, we were able to put the socks on all three of Wyatt's gigantic paws. He really didn't mind them, however Wyatt is always tolerant of dog boots on his feet.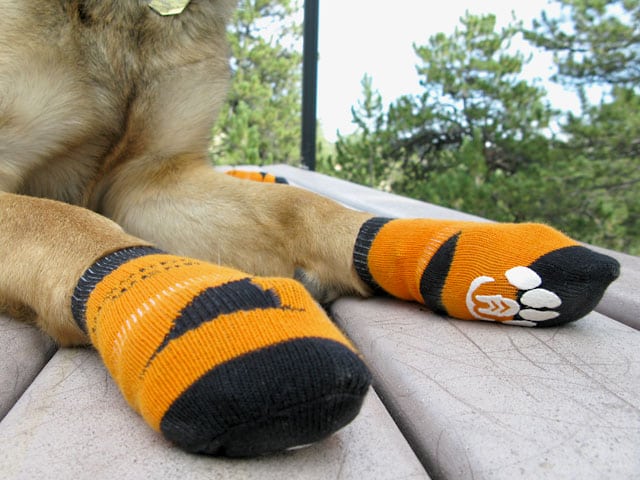 The biggest challenge we had was getting the Power Paws
traction surface on exactly the bottom of Wyatt's big ol' paws.
A danger of not doing so would put the soft sock material on the bottom of his foot, making them more of a hazard than a help.
It took some fussing to get the fit right, but that was about the only downside we could find to Power Paws
. They stayed up on him, didn't slip and looked just as good when we took them off.
We like how they're small enough to put in a pocket, purse or wallet. And, they don't impact circulation around the wrist joints.
Easy to Find the Right Fit for your Dog's Feet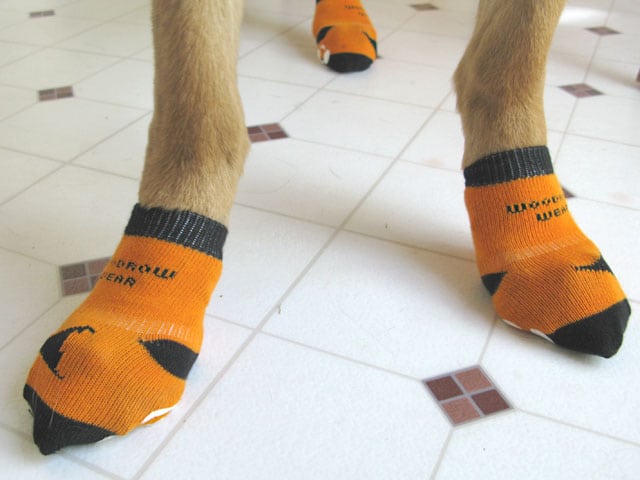 Power Paws
come in many different sizes and styles
, however some dogs, like Poodles and Greyhounds, have feet that might be challenging to properly fit. We are also aware of one Tripawds member who couldn't find a good fit for her Pomeranian.
Woodrow Wear is very understanding when trying to get the right fit and urges pawrents to contact them with any questions before ordering. Also, if you're unhappy with the fit and want to try a different size let them know.

Woodrow Wear was founded by a dog mom who knows what it's like to cope with canine aging, degenerative arthritis and hip problems, and the need to have a safe surface for our dogs to walk on. Woodrow Wear is a big supporter of animal welfare organizations, and even offers group discounts to rescue groups and animal organizations.
Try Power Paws Today!
If you'd like a great tool to help your Tripawd get around, give Power Paws a try. They're one of the best long lasting, comfortable and safest traction socks for dogs around.
Order Power Paws
today through the Woodrow Wear Amazon Store
.
You can also purchase directly through Woodrow Wear, but if you do, please let them know that Tripawds referred you!
Please use promo code TRIPAWDS when ordering Power Paws directly from Woodrow Wear.
Why buy from Tripawds?
Purchases made on this site help support our continuing efforts to raise awareness about canine cancer and amputation as a viable treatment option. Because we believe it is better to hop on three legs than to limp on four.