Snow days are just around the corner for our cold-climate Tripawd friends. If you live in the great white north, what will you do to protect your Tripawd's feet from snow, salt and ice build up?


Boots are great, but not all dogs should, or will, wear them. For dogs who prefer to go au-naturel, we suggest trying Musher's Secret Paw Wax.
Made from 100 pawcent all-natural waxes, Musher's Secret will protect your dog's paws from:
Salt and Chemicals
Ice build-up
Snowballing
Musher's Secret is non-toxic, won't stain, and its semi-permeable shield is absorbed into the paws, allowing perspiration to escape through the toes. Apply it to the bottoms of the feet and inbetween toes for safe protection from the roughest of surfaces.
Musher's Secret also helps improve traction on slick surfaces to help prevent injury from falls on hardwood floors or during trips to the vet!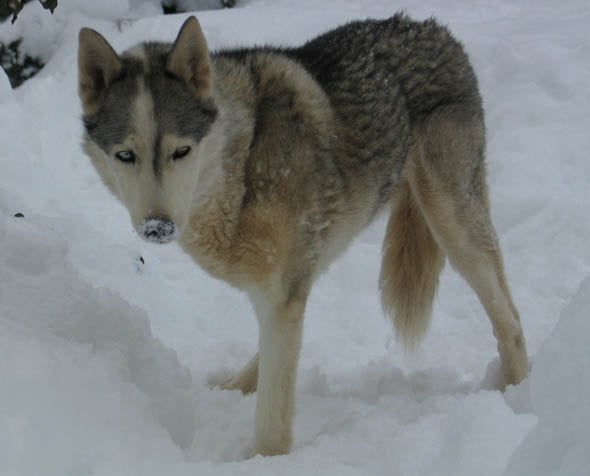 Since it can be used inside without staining furniture or floors, some Tripawd pawrents recommend using Musher's Secret as an anti-slip coating instead of boots or foot spray.
We haven't tried this ourselves so we can't recommend it for that purpose, yet.
But we have used it on Spirit Jerry's feet during extremely hot weather and it really helped to keep his paws from becoming too cracked in desert heat.
Musher's Secret is not just for winter, either. In summertime, it can be used for scorching hot surfaces including:
Sand and sandburn
Hot pavement
Rough terrain
Musher's Secret Paw Wax is a dense, barrier wax that forms a breathable bond with your dog's paws. Developed in Canada for use with sledding dogs, it provides tenacious protection even in the most extreme conditions.
If you've tried Musher's Secret or any other kind of paw wax on your Tripawd, tell us what you loved or didn't love about it in the comments field below!