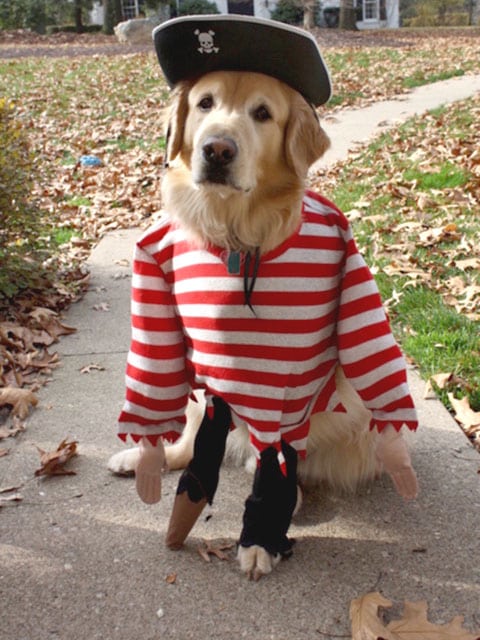 Looking for a fun way to enjoy the upcoming Hallowed Eve with your three legged goblin?
Members are sharing their dog Halloween costume ideas in the forums, and have posted photos of their costumed pups from the past.
Get in the spirit of the Halloween season and keep dogs safe with these new promotions on pet costumes and safety gear for dogs from FetchDog!
NOTE: These FetchDog Deals have been discontinued.
Count Dogula Dog Costume – Just $29.75!
If you spot a dog with pointy teeth and a cape after dark this Halloween, you have good reason to be afraid: it's Count Dogula, and he's out for people food. Exclusive quality costume handcrafted in Vermont.
Barking Bat Dog Costume – Just $29.75!
In the interest of fair representation from heaven and, well, Transylvania, our handcrafted, Vermont-made costumes cover both ends of the spectrum. One transforms your everyday pooch into a Bat-Dog, while the other turns her into a perfect Angel. Both costumes feature wire-lined wings, and the Angel's are made of real feathers.
Arf Angel Dog Costume – Just $29.75!
Exclusive quality costume handcrafted in Vermont. Angel wings made of imported goose feathers on cardboard dusted with gold glitter. Halo is made of imported Marabou feathers with chenille covered wire with a felt cap. Belly band made of nylon webbing with Velcro. Wings are secured with the belly band under the legs.
Nite Safety Dog Collar – Just $14.75!
This lighted dog collar is equipped with high-power, 100,000 hour LEDs on an adjustable nylon dog collar featuring flash and glow modes to make your dog visible for up to 1,000 feet.
Rufflective Vest Dog Coat – Just $19.75!
Day or night, with the Rufflective Dog Vest, everyone sees you coming – and going. Made of Vibrant, breathable nylon mesh and detailed with reflective 3M™ fabric, this dog vest is ideal year round in any light.
Hi-Vis LED Dog Jacket – Just $59.75!
When going out after dark, your dog's safety depends on his visibility. With its bright red LED-equipped collar, this blaze orange jacket makes him a bright spot in the night. To enhance performance, the LED light is programmed for both blinking and solid light patterns. Add the snug ergonomic fit of its Polartec Power Stretch fabric body, and it's the perfect three-season standout your dog deserves.
Skull & Bones Reflective Dog Collar and Leash Set Just $19.75!
When autumn darkness sets in, brighten the night with this frightfully reflective dog collar and lead. Made with 3M Scotchlite – the same reflective material used on uniforms for firefighters, EMTs and police officers – its skull and crossbones pattern is visible up to 600 feet away. A great low-light combo for Halloween – and any time your dog is in the mood to haunt the neighborhood after dark.
Receive free standard shipping from FetchDog anywhere in the continental US!
Receive free standard shipping anywhere in the continental US with no minimum order. 4-7 business day delivery on in-stock items. Limited time offer expires December 20, 2010.
Get the FetchDog catalog for more savings on all your pet supplies!
Be sure to have a safe, fun Halloween and share your photos from Halloween this year in the forums!