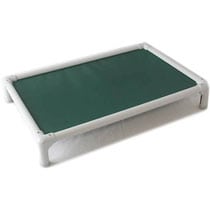 Although most humans think that recovering Tripawds need lots of fluffy pillows to lay on, what they really need is a bed with extra firm support.

Tripawds can have a hard time turning around on traditional pillow-style beds, which also act as a sponge for moisture, bugs and odors.
Instead of an old-school dog bed, consider a longer-lasting, clean and comfortable Kuranda Dog Beds.
These "Guaranteed Chewproof" dog beds provide orthopedic support to arthritic dogs of all sizes and last practically forever!
Advantages of Kuranda Beds include:
An easy-to-clean vinyl weave fabric that's perfect for post-surgery and incontinent dogs
A firm sleeping area that won't bunch up and become uneven
Prevention of elbow hygromas from laying on hard surfaces
Provides firm support and an elevated barrier from cold, drafty floors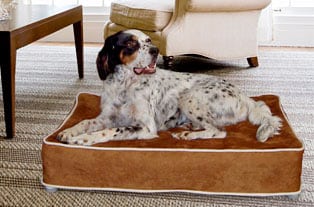 Kuranda's Standard Bed heights are 6 in. for beds up to size Large, and 9 in. for XL Kuranda Beds & XX-Large. The XL and XX-large sizes are reinforced with steel rods for greater support.
You can use them indoors our outdoors, and the furniture-grade standard Poly-Resin framework has a glossy finish that is extremely resistant to sun and environmental-related damage.
Kuranda Beds also come with optional fleece pads and slip covers in various colors. When the long-lasting fabrics finally wear out, you can order replacement parts too.
Plus, these beds are "Guaranteed Chewproof" for up to one year!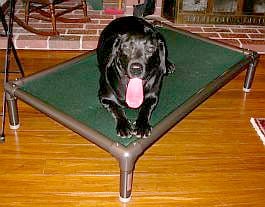 Unlike beds which wrap the fabric around the outside of a frame making it totally exposed for a dog to chew, Kuranda Beds have a patented design which secures the fabric inside a special channel in the frame totally inaccessible to dogs.
We think these beds are terrific for any dog, but especially for post-amputation surgery and older, arthritic dogs. If you already own one or decide to try one, tell us how it works for your Tripawd!
Thanks for making your Kuranda Bed purchase here at Tripawds. All purchases made through this site help cover the costs of maintaining this very special community!