Ask any canine rehabilitation specialist and they'll tell you, dogs should never jump into our out of vehicles (or off of furniture, like beds!). Doing so can cause debilitating injuries over time. It's especially important to assist three legged dogs in and out of vehicles to reduce trauma on remaining limbs. This will help maintain strong joints into old age, and save your back too!
If you have a truck or SUV, the Otto Step Pet Step is one of the safest and most convenient ways to help your Tripawd in and out of your vehicle. The Otto Step is made from lightweight, nylon glass-filled plastic that can easily hold over 200 pounds – yet weighs less than six pounds! It's small, portable and much easier to handle than most large pet ramps.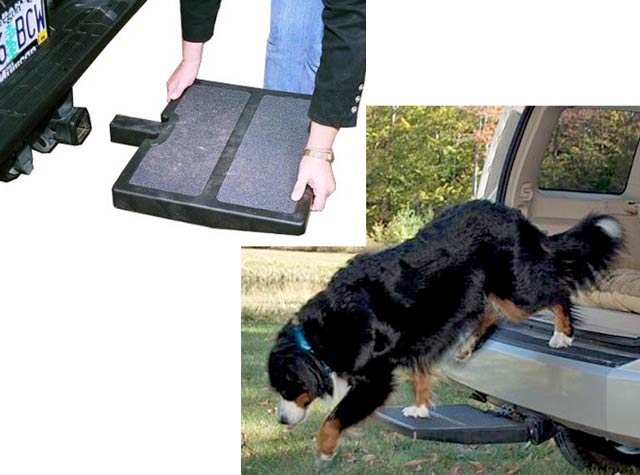 With its unique design, the Otto Step attaches to any standard hitch receiver for easy access to the rear of most SUVs and pickup trucks.
Once you try Otto Step, you'll wonder how you ever got your dog into your truck without it. With just a little practice, following the included simple training guidelines, using the OttoStep will become second nature.
Used in conjunction with the Ruff Wear Webmaster harness, the OttoStep is an ideal way to reduce stress on your pup's legs – and your back!
Its light weight, strong durability, and small size earn the OttoStep three paws up! And with the selection of accessories available, there is an OttoStep for any SUV or pickup truck.