Many pawrents ask about using booties to help their Tripawd dog navigate slippery floors. If you're curious to see how your Tripawd handles boots but want to begin with a smaller investment than the ultra durable Ruff Wear's Bark'N'Boots, these PAWZ Dog Boots are a smart choice.
As we mentioned in our review of Ruff Wear's Bark'N'Boots, boots can work great for many three legged dogs. However, some dogs will wear them and others instantly hate them. Some dogs have feet that fit perfectly into boots, while others don't. You never can tell until you actually try them.
PAWZ Dog Boots are made of natural rubber and are comfortable for your dog to wear. They're reusable, disposable and waterproof, making them an economical, convenient and versatile choice.
Unlike other dog boots, these stretchy, boots have no padding so your dog can feel the ground beneath him, giving him more confidence and ease of movement (this is critical for dogs with neurological issues). PAWZ are the world's first disposable latex rubber dog boots designed to go on easily and fit securely without using zippers or straps.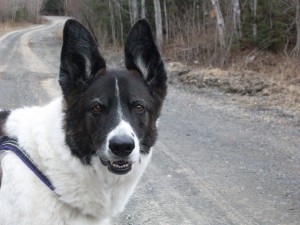 The natural rubber PAWZ are made with is strong and stretchy, making them easy to put on and stay put. They're perfect for navigating vet's offices, protecting tender paws at the beach, rain, snow or walking on hot sidewalks.
Tripawd Maggie told us about PAWZ because she loves them. Her Mom Tracy finds them handy in situations when they unexpectedly encounter slippery floors.
The PAWZ company was kind enough to send us some samples for Tripawds Spokesdog Wyatt Ray, so stay tuned for a complete review. Meanwhile, here's more information and links to places where you can buy them.
http://www.youtube.com/watch?v=w49XybpaY2o
Pawz Dog Boot Features
Disposable and reusable
Waterproof and durable
Slips on, stays on
Comfortable, stretchy natural rubber
Sizing & Recommended Breeds
Tiny (light green): For paws less than 7/8″

Brussels Griffon, Chinese Crested, Maltese, Toy Fox Terrier

XX-Small (yellow): For paws 7/8″ – 1 1/4″

Chihuahua, Papillon, Teacup Poodle, Teacup Yorkie

X-Small (orange): For paws 1″ – 1 1/2″

Cavalier King Charles Spaniel, Havanese, Italian Greyhound, Pug, Toy Poodle, Shih Tzu

Small (red): For paws 1 1/2″ – 2″

Border Terrier, Boston Terrier, Cairn Terrier, Fox Terrier, Shiba Inu, French Bulldog

Medium (blue): For paws 2″ – 3″

Beagle, Bichon Frise, Cocker Spaniel, Corgi, Lhasa Apso, Greyhound

Large (purple): For paws 3″ – 4″

Airedale Terrier, Akita, Basset Hound, Bulldog, Chow Chow, Collie, Golden Retriever, Labrador Retriever

X-Large (dark green): For paws 4″ and up

Bernese Mountain Dog, Bullmastiff, Great Dane, Saint Bernard