Tracy recently wrote in detail about Exercise Rehab for Tripawder Maggie on her agile cow dog blog. She also posted a bunch of great videos showing Maggie doing some core body work using FitPAWS Pet Balance Pad and agility dog balance discs.
Many thanks to Maggie for demonstrating this important core body work as recommended by Dr. Jessica Wadman in our latest Ask A Vet live chat discussion. Watch more great three-legged exercise and agility movies on Maggie's blog!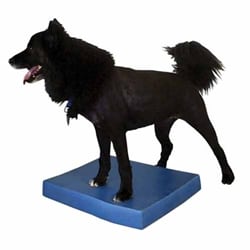 The FitPAWS Pet Balance Pad is an easy to use exercise tool designed specifically with your dog in mind. Ideal for dogs recovering from injury, this large square closed-cell foam pad strengthens a dog's legs and improves their balance to regain their strength once again. Additionally, the balance pad can be used for under-water therapy and can be stacked with multiple balance pads to create carrying degrees of height. This beginning balance training tool helps keep your pet strong for a healthier and happier life.
Closed-cell foam construction makes the FitPAWS Balance Pad impervious to water – great for when you need to hose it off between uses or use during under-water therapy. You can create varying degrees of balance challenge by stacking two or more balance pads on top of one another, or customize for use with larger dogs by using two balance pads side-by-side.
Tripawds Gear Shop Prices Include Shipping
Save on FitPAWS Pet Balance Pads and support the Tripawds community when you buy here! Shipping to continental U.S. is included. Please contact Tripawds with complete delivery address for estimate shipping to Alaska, Hawaii, or outside the U.S. Rush shipping is not available for this product.
Related Product Recommendations