There's nothing scarier than a slippery floor for a brand new Tripawd.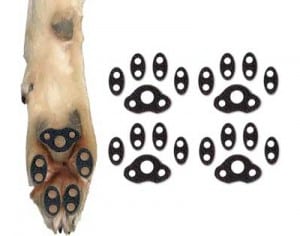 While we should always do our best to avoid walking on slick surfaces when we're just out of surgery, sometimes these places can't be avoided, like when we go get our stitches out at the vet's office (whose idea was it to make those floors slippery anyhow?).
One short term solution are Paw Pads Self Adhesive Traction Pads. They're basically grip tape for your Tripawd's feet. These stickers are easy to apply and will last throughout the day. As one Tripawds Member said in their Paw Pads Review,
"I do wish I'd had them for right after his amputation, however–not for home, but for trips to the vet . . . They'd have been perfect for chemo/bloodwork days."
While they aren't meant to be used long term, they should be an essential addition to your Tripawds Post-Surgery Kit.

Shop Amazon, Compare and Save!