Winter's here and it's time to bring the fun indoors. Announcing a flash sale on our favorite Tripawds exercise gear!
Save Money, Work Out and Have Fun with the Best Tripawds Exercise Gear!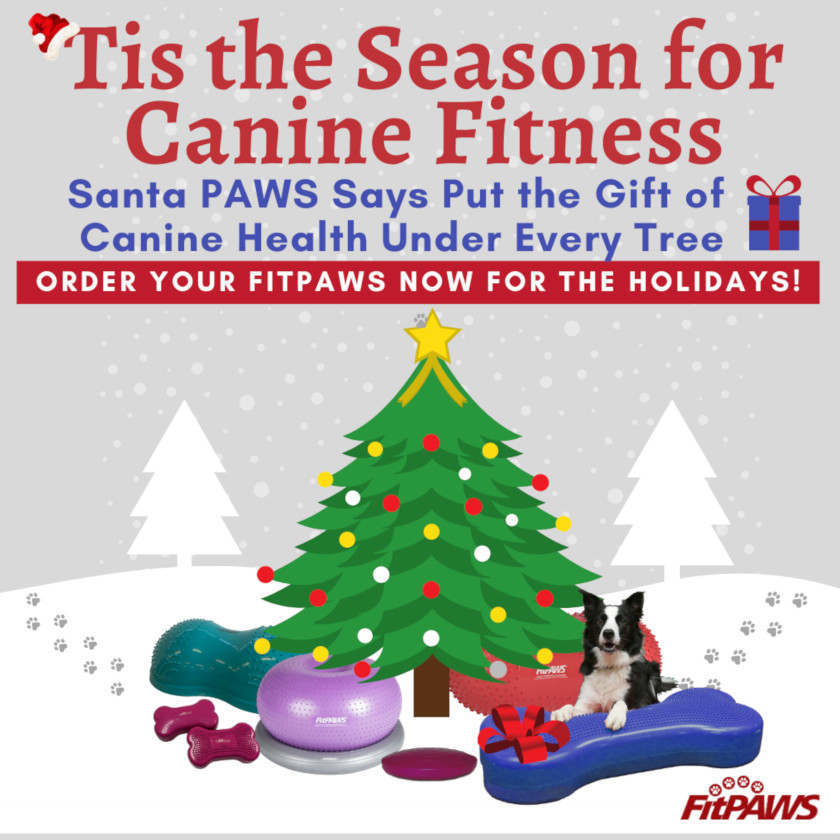 We can't think of a better way to kick off the pawliday season than a super savings flash sale on select FitPAWS exercise gear for dogs with three or four legs!
FitPAWS makes the best equipment available for working out any dog. We especially love it for Tripawds. You'll find it in canine rehab therapy clinics around the world. This is our favorite Tripawds exercise gear because it's a fantastic way to strengthen your bond and also:
Builds Confidence
Improves Fitness
Focuses Attention
Strengthens Muscles
Increases Range of Motion
Decreases the risk of injury too!
FitPAWS inflatable gear is based on a simple concept: when you shift your dog's center of gravity on this equipment, your dog will naturally try and maintain balance. This causes the muscles to engage and strengthen. Helping your Tripawd get strong and stay that way is that simple!
Enjoy Extra Savings on Select FitPAWS Equipment
If you haven't taken advantage of the Tripawds Foundation Rehabilitation Therapy Reimbursement Program, now's the time to do it. Always meet with a rehabilitation therapist first before attempting any of the exercises that you can do with FitPAWS gear.

For now, see how you can get a head start on the Tripawds' exercise gear your therapist will recommend, by saving on some of our favorites:
Save on Regular or Giant in Sky Blue, or Razzberry in the Mini size!
This is a longtime favorite Tripawds exercise gear. Place your dog's front or rear paws on the K9FITbone for a low impact balance challenge that develops strength, builds endurance, boosts proprioception (awareness of one's body in space).
Sensory bumps cover the surface for neural stimulation. You can make it harder or easier by adding more or less air, with the included air pump.
The Mini Bone is 11.5″ x 6.5″ x 2.5″
The Regular Bone is 23″ x 11.5″ x 4″
The Giant Bone is 35.5″ x 15.7″ x 5.5″
Learn more about the K9FITbone. Then choose the Regular or Giant Bone in Sky Blue to enjoy your savings!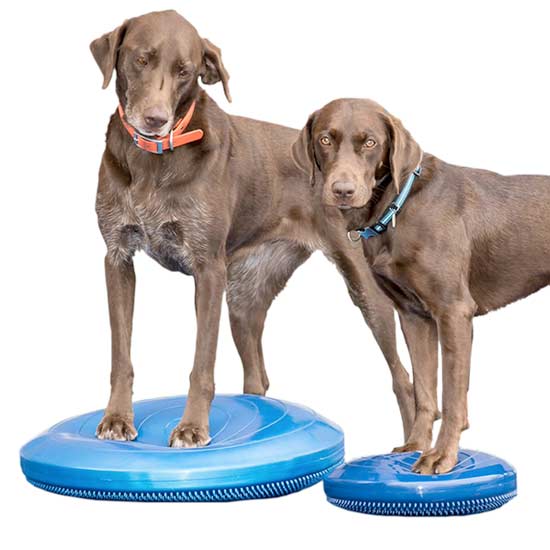 Enjoy active play, everyday! The FitPAWS Dog Balance Disc turns any flat surface into an active one. This is an excellent tool for improving motor skills and balance for dogs and cats too! Follow the enclosed guide to help prevent injury and build strength. Use for beginner balance training, core strengthening, rehabilitation and general fitness. A pump is not included in this one but you can use a standard bicycle pump to fill it.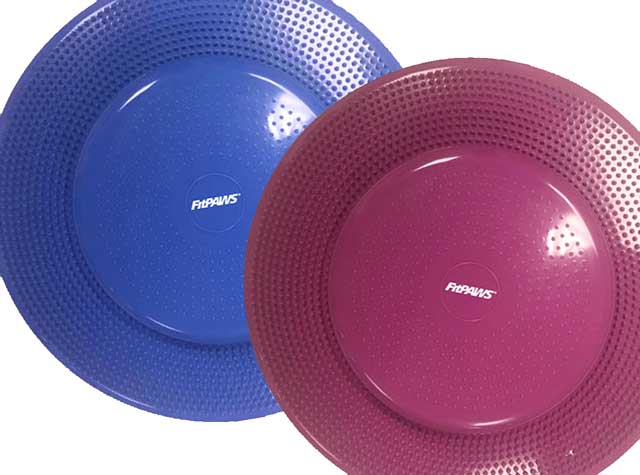 Check out the FitPAWS Balance Disc. Choose the 14″ size in Razzeberry to enjoy extra savings!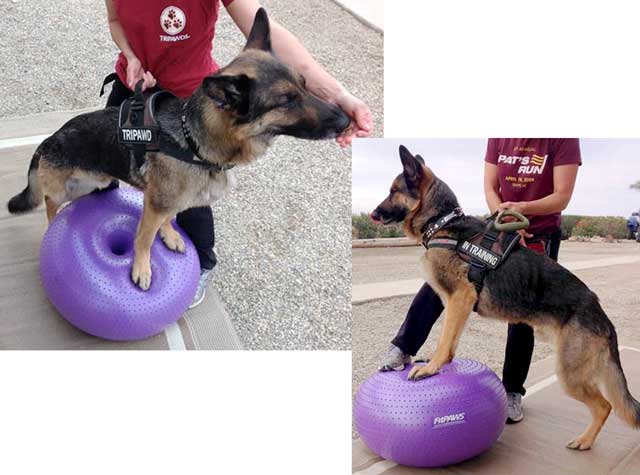 This is the only Donut that is good for your dog! 🙂
The FitPAWS TRAX Donut Ball is uniquely-shaped inflatable fitness ball designed specifically for dogs. It gives a moderate balance challenge with a flattened base with holder that offers more stability than a ball or other inflatables. With your assistance, your dog can learn to stand, sit, lay, side step and perform other beneficial exercises on this equipment.
Adjust the balance challenge by under or over-inflating
Approximately 12" high and easily inflates/adjusts with a hand-held air pump (sold separately.)
Inflatable circular Ring Donut Holder provides extra stability, and can be used separately for target training or as a jumping ring.
Learn more about the FitPAWS TRAX Donut Balance Ball and Ring and save!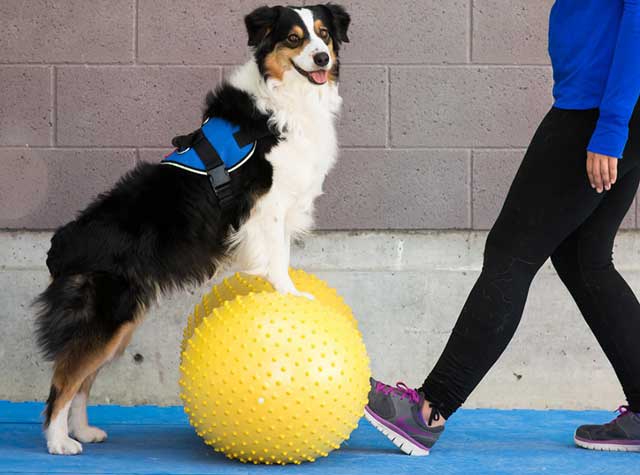 Is your Tripawd ready for advanced workouts? Enjoy extra savings on the TRAX Peanut Balance Ball in the 50cm size (Red)!
The Peanut is made for dogs. It has a burst-resistant design to protect against nail piercings. Enjoy advanced canine core conditioning and balance exercises. Heavy-duty TRAX™ surface prevents slipping, adds neurosensory stimulation. Includes a guide and air pump.
NOTE: This is advanced Tripawds exercise gear. Use with professional guidance.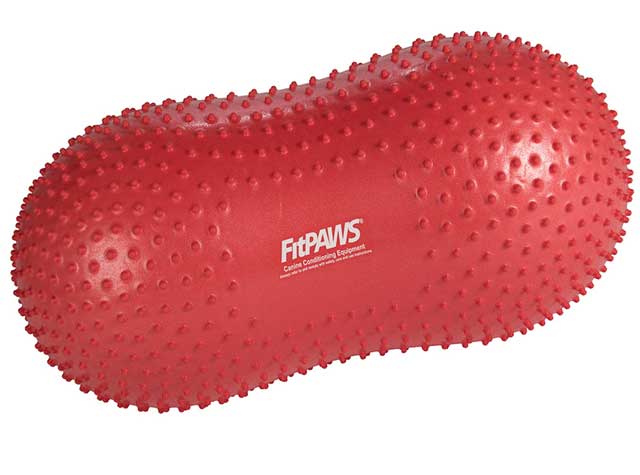 Only the 50cm red is on sale, for dogs with a standing shoulder height up to 20"-23".
Find out if the FitPAWS TRAX Peanut Balance Ball! is right for your Tripawd hero!
Thanks for Shopping with Tripawds!
We appreciate your shopping through the Tripawds Gear Store this pawliday season. Remember, any purchase includes a coupon for $5 Off Tripawds E-books so shop away and save!