Spring hasn't quite sprung for all of us yet but that doesn't mean we can't celebrate National Canine Fitness Month! Whether your Tripawd is playing indoors this week or outside in the sunshine, there's no better time to help your Tripawd get strong and fit for summer!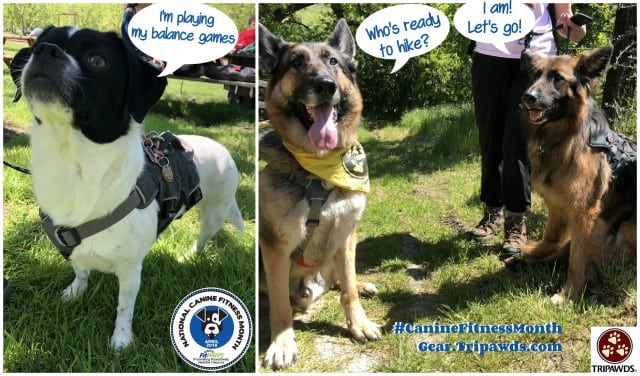 Tripawds Spokesdog Goes Wild Over #CanineFitnessMonth
Last weekend Tripawds Spokesdog Wyatt Ray went wild when he heard he was going to meet up with the love of his life, Miss Hannah Rae, along with the fabulously fit Elly the Tri-Pug Mutt. Here he is, getting in shape with his version of abdominal crunches!
He couldn't be hoppier for the chance to have a play date with these two gorgeous ladies. All of these pups have come a long way from their early days as three-legged rescue dogs. Today, they're fabulously fit and ready to roll for spring and summer. The three Tripawds hiked and celebrated their good health, which was only made pawsible parents who help them stay in shape.
Get Started with Core Strengthening Games
Want to keep your Tripawd safe and injury-free? Start with core strengthening games that build abdominal muscles. A good core is key to preventing injuries. Core strength matters for all animals but especially three-legged ones. "The tripod dog needs core strength even more due to the compensations they must make for a missing limb," says renowned canine fitness expert Debbie Gross. "Core exercises and foundation work will be the key to every activity you do with your tripod!"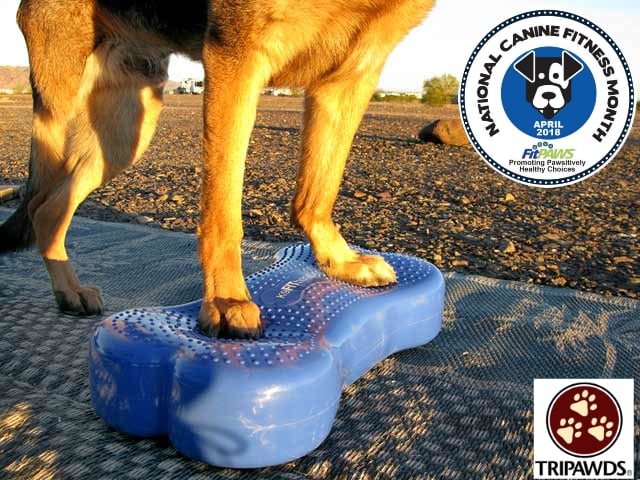 Wyatt exercises every day on his K9 FitBone. As we mention in our Tripawd fitness book, "Loving Life on Three Legs," if you use gear like this to practice a fun fitness routine of just 3-5 minutes daily for at least three times a week, your dog can build stronger core muscles for:
Better balance and overall strength, as the remaining limbs gain power and muscle definition.
Better spinal alignment and longer endurance for longer, safer and more fun playtime and walks.
Reduced joint stress and body stiffness as your Tripawd grows older.
Remember, first consult with your veterinarian before attempting any kind of exercise program for your Tripawd. Better yet, take advantage of the Maggie Moo Fund for Tripawd Rehab! The Tripawds Foundation grants up to $200 in reimbursement to Tripawds members who visit a certified animal rehabilitation therapist for a first time evaluation. See: How to Apply for the Tripawds Rehab Reimbursement Program
Celebrate National Canine Fitness Month with Great Tripawd Exercise Gear!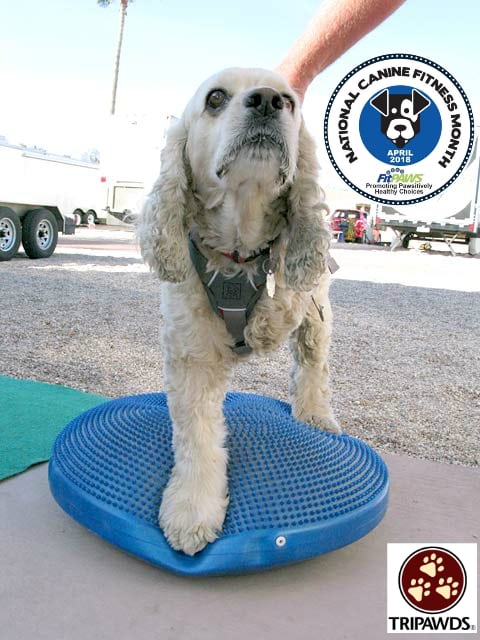 or build this DIY Wobble board!
And learn so much more about canine fitness in our Tripawds e-book Loving Life on Three Legs!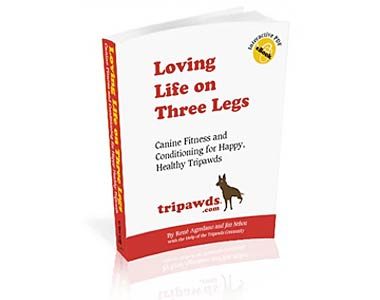 How are you celebrating National Canine Fitness Month? Share your exercise routine in the comments below and post Tripawd exercise photos in our Hopping Around Forums Discussion!