Here's a cool harness mod for rear amputee Tripawd dogs. It's for the Ruffwear Doubleback harness, which we have always found more useful for front-leg amputees.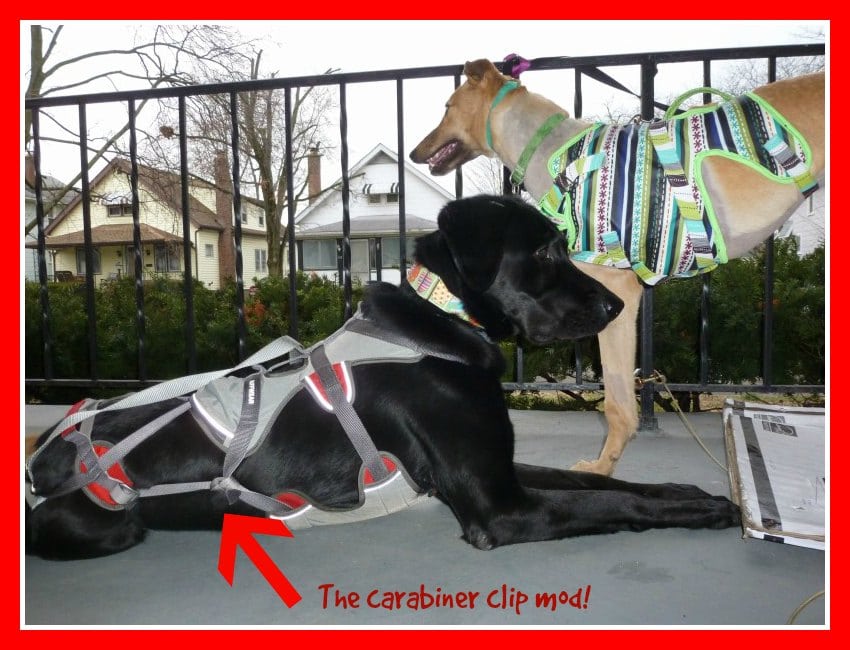 Check out our original review to see what we mean about the issue with rear-leggers:
DoubleBack Harness Great for Front-Leg Tripawds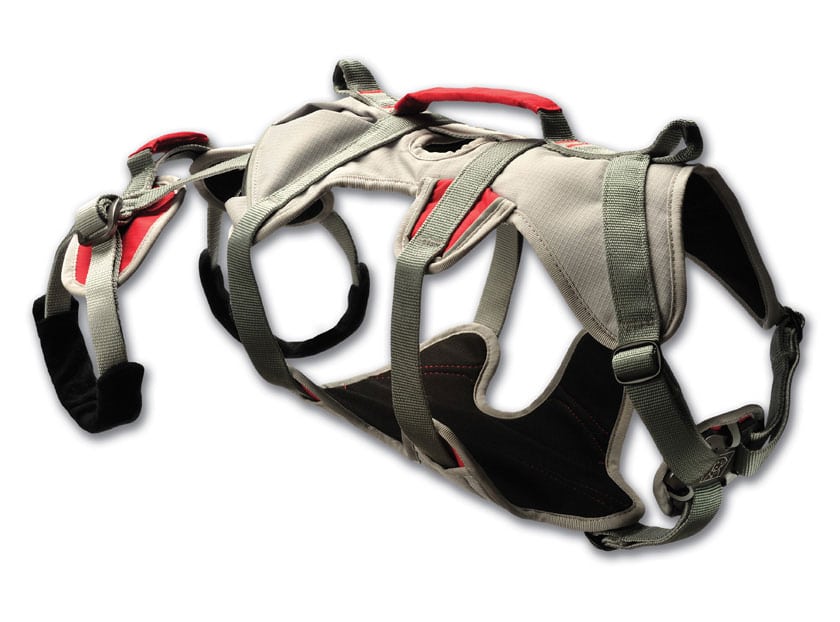 for less-active front-leg Tripawds who require rear-end hip support, the DoubleBack Harness by Ruffwear is the perfect fit . . . (but) the DoubleBack leg loops do not work well on a rear-leg Tripawd.
In the meantime however, we discovered a cool mod that might just be the answer for rear-leg Tripawds needing hip support. Amanda and her Tripawd Haiku (along with sister Cassie) shared this tip with us when they received the Doubleback as an Angel Exchange gift:
So far so good! Haiku's nubbin appears to be enough to hold the back leg strap on (except occasionally when rolling around and playing with his siblings like crazy, which I wouldn't expect it to). I found that by placing a carabiner or s-clip between the two leg straps, above the base of his tail, he was able to keep the leg strap on even when running all-out.

I was also able to try it out with helping him get into the back of my car, and it certainly made lifting nearly 80 pounds of labradorable dog much easier on me! Thank you so much to tripawds and angel Dolby for the harness. I anticipate many, many years of use out of the harness since Haiku is only 2.5! Thank you again so so much!
Keep in mind that if you try this, you must keep an eye on your dog when s/he is wearing it to make sure the carabiner doesn't get caught on anything. Also, any permanent modifications made to a Ruffwear harness will invalidate the warranty it comes with. But we do think this is worth a shot if you want to try the Doubleback on your rear amputee dog.
Shop for all Ruffwear products in the Tripawds Gear Store.