If you have a very active front leg Tripawd dog, there may be times when your dog's chest area becomes sensitive after hard play. That's when the Sylmar Dogwear Body Guard Vest comes in handy, as Mandy and her Tripawd Maverick learned.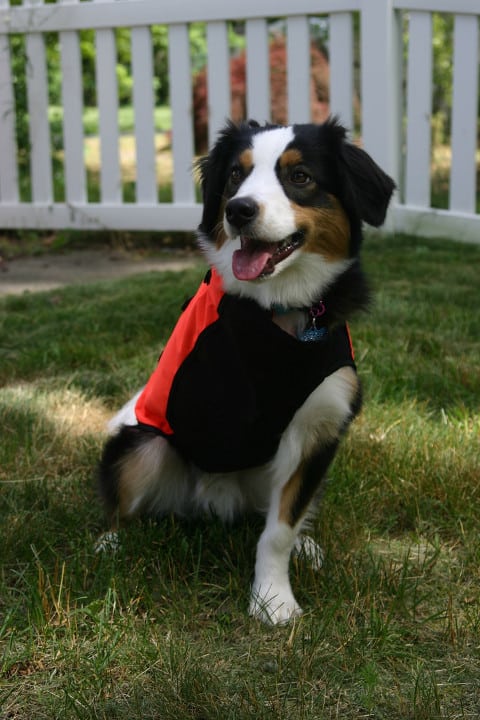 Dog Jacket Protects Front Leg Tripawd Chest Area
Maverick is a young dog who plays rough. Occasionally some abrasions might happen, as his mom Mandy experienced and wrote about here:
So Mav's taking some serious face plants lately just from crazy puppy time. He hasn't injured anything but his PT suggested some chest protection until we get him to slow down a little with some more propreaception exercises. Its close to impossible to find anything in his size (26 pounds) that also protects his amp site and is light weight enough for summer use. I keep him very lean so he has almost no protection there to keep him from injuring a rib or scraping the skin. Any suggestions?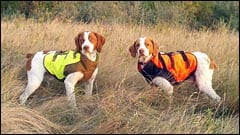 After much research, Mandy posted about a chest protection jacket that Tripawd dogs can use. Made by Sylmar Dogware, the Body Guard Dog Vest isn't specifically made just for Tripawds, but for any dog who enjoys field sports like hunting. Here's what she said:
I posted a video on facebook so you guys can see just why I need this, mini aussies play just as ruff as the big guys.

Anyway, I got my vest in from Sylmar a couple weeks ago but I really wanted to test it out before I recommended it to you guys. So far so good, Mav can race around in comfort and he doesn't overheat since its open at the top. Jerry, the company owner, was great (good karma with that name). He got back to my email right away and customized it for free, which is great even though I would have paid a whole heck of a lot more for this! This thing is worth its weight in gold for my little Mav and he looks great if I do say so myself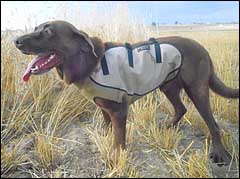 We haven't tried this ourselves but based on how much Mandy and Maverick like it, we'd say it's a pretty good piece of gear to have on hand for your front leg Tripawd dog. Check out the Sylmar Dogwear Body Guard Dog Jacket.