One of the best ways you can help your three-legged hero get strong after losing a leg is through canine rehabilitation therapy. A rehab program provides endless life-changing benefits for all dogs but especially three-legged ones.
A qualified canine rehabilitation practitioner can help your Tripawd in many ways, including:
Locating existing skeletal and muscular weaknesses to reduce the risk of additional damage.
Diagnosing and fixing a physical problem instead of relying solely on painkillers to hide symptoms.
Correcting your Tripawd's gait in order to reduce the physical stress of the "Tripawd Hop."
Not all doggie rehab centers and practitioners are equal, however. Two of the most important factors a clinic needs in order to provide a safe environment are:
Rehabilitation staff with the CCRT or CCRP credentials.
A partnering veterinarian who is also certified in canine rehabilitation.
The most highly trained individuals will have the initials "CCRT" (Certified Canine Rehabilitation Therapist) or "CCRP" (Certified
Canine Rehabilitation Practitioner) after their name, which means they graduated from one of only two accredited courses in the world recognized for outstanding training and education:
When done by qualified practitioners, canine rehab is s0 much fun for you and your dog. If you're unable to work directly with a clinic, fear not, there's plenty you can do at home to aid your Tripawd in building strong core muscles and stamina. Here are two beginner level pieces of equipment that will help you get started:
FitPAWS® Balance Pad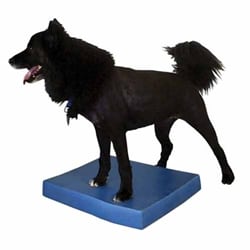 The FitPAWS Balance Pad is the perfect beginning balance training tool and provides low balance challenges for dogs recovering from amputation surgery or other injuries. The closed-cell foam construction makes the FitPAWS Balance Pad impervious to water, great for when you need to hose it off between uses or use during under-water therapy. Read our Balance Pad review here.
FitPAWS® K9FITbone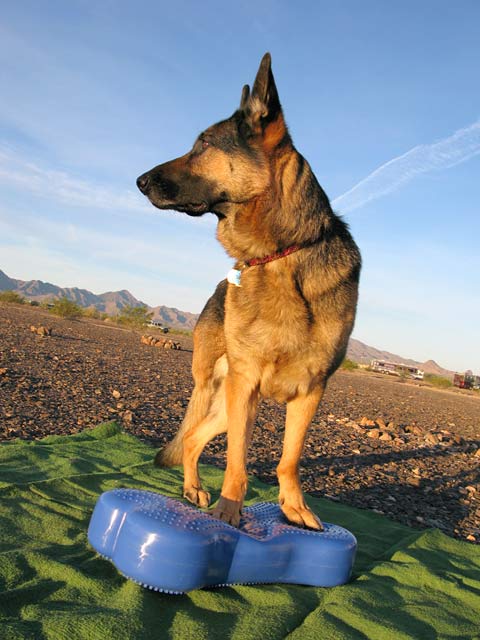 Instability training develops strength, endurance, proprioception, balance and flexibility with the K9FITbone™. Provides a low–impact, platform to add full–body conditioning and toning for small and large Tripawds. Features sensory bumps for neural stimulation. Balance challenge can be adjusted by adding more or less air to the platform. Read our K9FITbone™ review here.
Recommended Reading
Loving Life on Three Legs: The Tripawds canine fitness and conditioning handbook
The Tripawds Gear Blog: Best of Gear and Fitness Tips for Three-Legged Dogs
Veterinary Rehab Therapy Benefits for Three Legged Dogs