Some folks call it a wobble board, others refer to it as a "buja board" for dogs. Whatever you call it, this wobbly surface is a great tool to build core strength in dogs, especially the three-legged variety!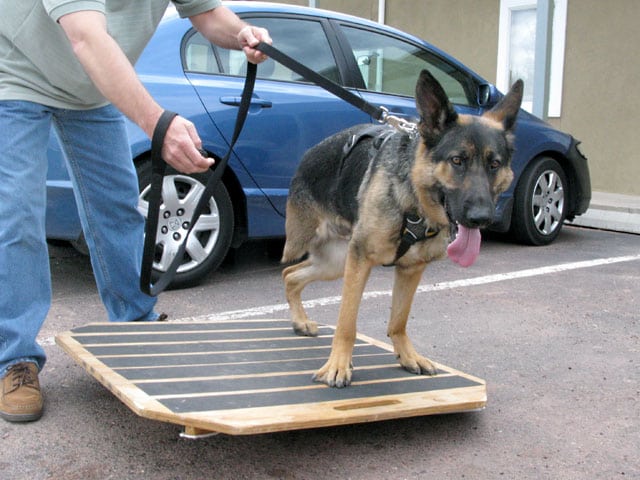 Why Build Strong Core Muscles?
Teach your dog to learn how to balance on a wobble board and you'll help build one of the most critical aspects of a three-legged dog's life: strong core muscles. Why is it beneficial to build strong abdominals?
Helps to prevent spinal issues
Can target specific limbs for weight-bearing therapy and muscle strengthening rehab.
Boost confidence on changing surfaces
Develops better stamina
Help build better balance
Build or Buy, Wobble Boards are Fun!
You can build a Buja board if you're crafty, or order a FitPAWS Wobble Board to get started. Watch how Wyatt learned to work on uneven surfaces and see what a fun time you can have with your Tripawd!
Keep in mind wobble board games are an advanced activity; if your Tripawd is new to rehab therapy, you'll want to start by familiarizing her with uneven surfaces. Have your Tripawd walk on couch cushions placed on the floor, then try a FitPAWS Balance Pad, move up to the Balance Disc, Paw Pods and eventually a Wobble Board.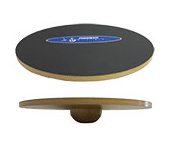 Recommended Reading
Loving Life on Three Legs: Canine Fitness and Conditioning for Happy, Healthy Tripawds
Post Op Canine Rehab with the Wobble Board
FitPaws Wobble Board Builds Tripawd Confidence
Online Dog Coach: The Buja Board
Alfies Blog: Wiggling Wobbleboard Fun: Training Core Muscles and Balance