Now is the time to buy a Ruffwear Webmaster harness, K9 Float Coat life jacket and other helpful Ruffwear gear for Tripawds! On June 1 all Ruffwear items will see a slight price increase resulting from Ruffwear's rise in their cost of materials.
Get a rebate on these Ruffwear items until midnight May 31st!
Rock the Tripawds Nation in a Webmaster
The Webmaster Harness is our all-time best-selling mobility aid for three-legged dogs of all breeds.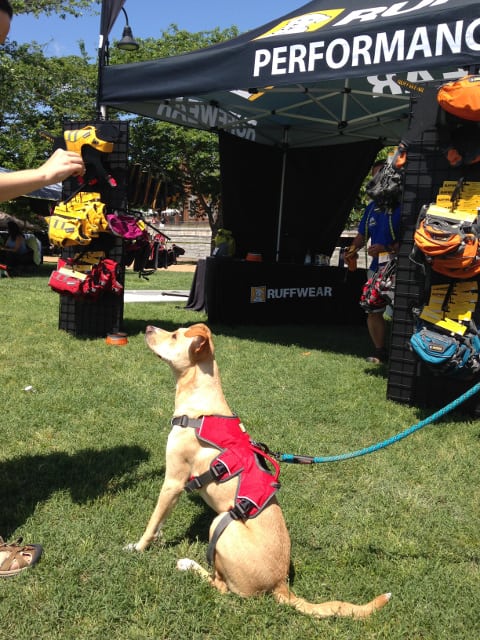 There's no other harness that serves as many purposes or is as comfortable to wear for just a short hike or all day while lounging around the house. It helps you help your dog:
Buy a Webmaster by midnight on May 31 at the normal price of $52.95 (with free ground shipping) and we'll refund you $5 after your purchase!
Tripawds Swim Safer, Longer with K9 Float Coat
Yes, three-legged dogs can swim, but they swim better, safer and longer with a K9 Float Coat by Ruffwear.  Check out all the reasons why a Tripawd swims better in this superior life jacket, including:
More buoyancy
Superior safety protection
Sturdy handle for assisting your dog
Prevents rolling over in water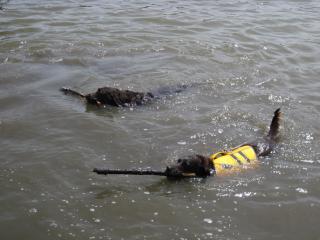 Get your K9 Float Coat by midnight on May 31 for just $74.95 (with free ground shipping) and we'll refund you $8 after your purchase!
Dogs Cool off with the Ruffwear Swamp Cooler
Fur is flying in homes everywhere as the weather warms up and summer approaches. Keep your Tripawd (and all dogs) cooler with the Swamp Cooler from Ruffwear. The Ruffwear Swamp Cooler uses evaporative cooling fabric to keep dogs from overheating in the sun. Just dunk it in cool water and place on your dog, she'll thank you for it!
The Swamp Cooler is the only jacket your dog will ever wear in the hot summer weather! It's a must-have this summer!
Get your Swamp Cooler by midnight on May 31 for just $49.95 (with free ground shipping) and we'll refund you $5 after your purchase!
Remember, all Ruffwear pricing is going up on June 1st so get yours now. We apologize for the increase, it was out of our control.
How to Get Your Rebate
Place your order for these items in our Tripawds Gear Shop.
After we receive and process your order, we will credit the card or Paypal account you used to purchase.
*NOTE: The rebate amount will be deducted from any refund for returned products purchased using this promotion. Please measure carefully. If either product purchased under this special offer is returned (not exchanged), a restocking fee will be assessed. Thanks for your understanding.