Here's a fun way to keep your Tripawd entertained whether you're dealing with post-surgery recovery boredom or just trying to keep your pup's mind sharp: The Zanies Pizza Interactive Dog Puzzle Toy

As this article about canine brain power says, mental stimulation is just as important as a high quality diet and physical exercise when it comes to giving your dog a great quality of life. The fairly recently development of interactive games for dogs has made it easy to enjoy quality time together while ensuring your pup's brain gets a good workout to stay fit and strong.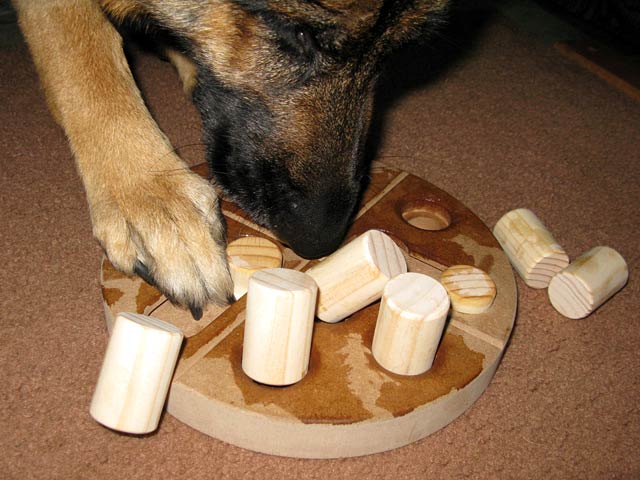 The Zanies Pizza Interactive Dog Puzzle Toy is a perfect way to do just that. It's a game and a treat dispenser in one. You hide the kibble underneath pegs and your dog moves them around to find the food.
Recently National Pet Pharmacy sent us this game to test it out on Tripawds Spokesdog Wyatt Ray. We found that it's a great way to challenge Wyatt just prior to his breakfast or dinner time. As you can see, he has a lot of fun with it!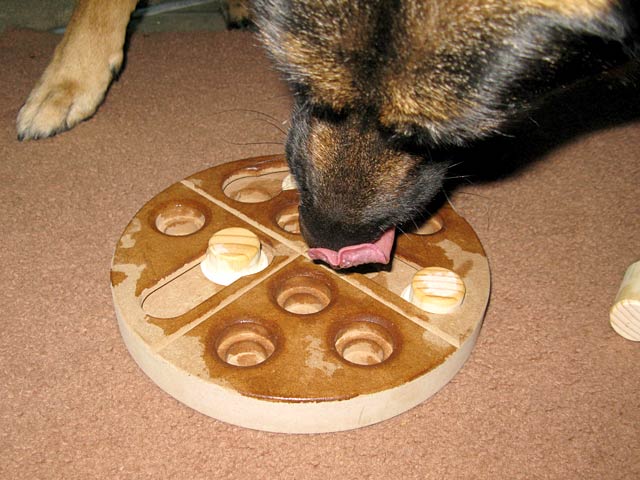 We'll use a half cup of his regular kibble when we play together. Then, when it comes to feeding him his regular meal, we just subtract the amount we used in the puzzle from his usual portion so he doesn't gain wait.
The Zanies Pizza Interactive Dog Puzzle Toy is a little easy for him because his big snout and giant paws easily knock over the wooden pegs, but it's a perfect puzzle for smaller dogs, especially toy breeds.
Recommended Reading
Tripawds Amazon Blog: More Interactive Brain Games
Tripawds Gear Blog: Relieve Tripawd Boredom with Scent Games and Canine Nosework
Tripawds Gear Blog: Dog Twister Game Keeps Recovering Dogs Entertained