Fly your Tripawd flag proudly with a sporty Tripawd harness badge made only by longtime supporters of the Tripawds Nation,  EzyDog.
Here's company dog Max, modeling the Tripawd side badges made just for the Convert Harness.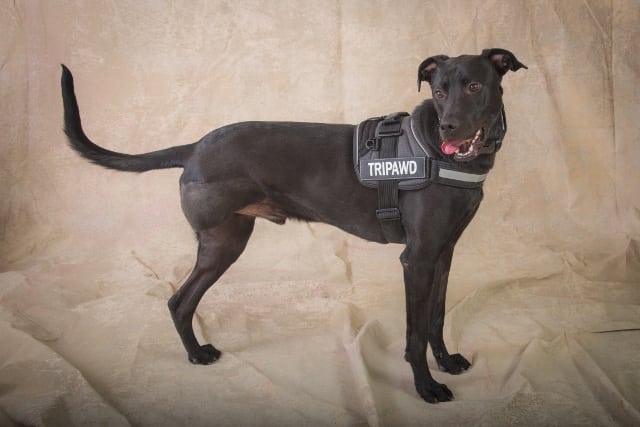 Founded by John Hatcher, this Idaho-based entrepreneur became a Tripawds Supporter when his beloved dog Hurley was diagnosed with osteosarcoma in 2011. Hurleys story is documented in his Tripawds dog blog, Hurley's Journey.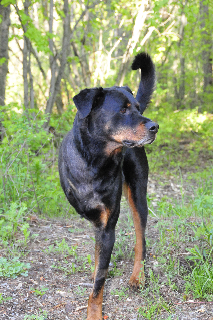 Although Hurley lost his battle far too soon, he leads the EzyDog company from above, always inspiring nifty new designs like the new Convert Harness and Tripawd side badges, which will be available in a few weeks.
Tripawds and EzyDog collaborated to bring these side badges to EzyDog customers, with some of the badge proceeds going toward keeping the Tripawds community online.
If you know of a pawesome product that would look great with the Tripawds registered trademark on it, drop us a line!
We haven't tried the Convert Harness yet, but based on previous EzyDog products we've tried, we know their gear is extremely durable and well made.
The sturdy and rugged Convert Harness vest has many functions. It provides security and pinch-free restraint for hikes. It can withstand substantial resistance, because it distributes the load across the chest and around the sides, rather than pulling across the throat the way a traditional collar does. You and your dog can tackle anything. Your dog harness should be able to do the same! A good match with the dog harness would be to pair it with an EzyDog dog leash for the ultimate in dog control.
If you decide to order a Convert harness and side badges, let us know how you like it by submitting a user review for publication in this blog.
Watch this blog for details on the EzyDog Tripawd Side Badges release date!