Tripawds Spokesdawg Wyatt Ray had a tough time choosing a winner, but he drew a name out of a hat and picked Dakota the Gripper Girl, a recent amputee from Golden, Colorado.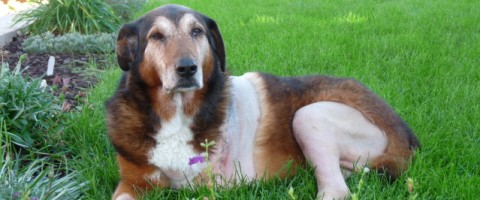 Dakota loves to swim and Wyatt thinks she will do a great job testing out the EZ Dog DFD Floatation Life Vest.
This senior gal has promised to create a video of her testing the life vest and sharing her thoughts about this product, which we'll post as soon as she sends it to us.
Thank you to everypawdy who took the time to enter the contest. It was really tough to pick a winner because all Tripawds are winners! Stay tuned for future product giveaways.
And remember, if you're really in need of an item, check our Tripawds Angel Exchange to let everyone know what gear you're interested in taking off of somepawdy's paws.
Be sure to check out this post about EZ Dog products to see their wide selection of affordable canine accessories. You'll not only find great outdoor gear but will also be supporting a fellow Tripawd member's business!