The scorching temperatures gripping North America are dangerous for our Tripawds. Be sure to read about how to prevent heatstroke in dogs, and consider helping your pup stay cool with new pet gear cooling technology for everything from clothing to beds.
The Ruff Wear Swamp Cooler™
The Ruff Wear Swamp Cooler™ uses evaporative cooling fabric to keep dogs from overheating on hot days.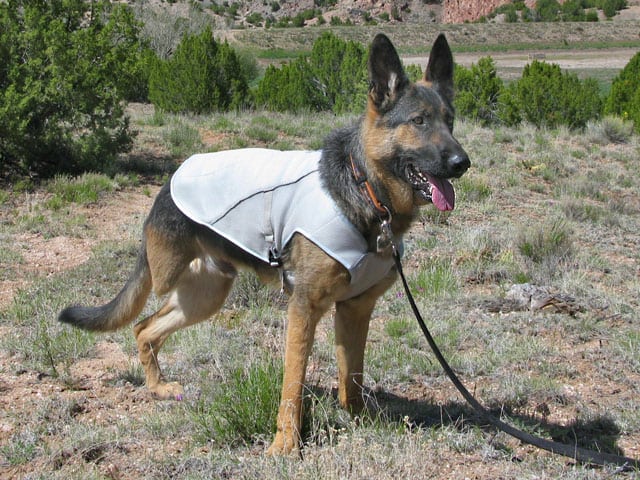 Just soak it in cold water, wring it out and slip over your pup's head for instant comfort.
The Swamp Cooler is built with a special three-layer lightweight fabric that works by exchanging the dog's body heat with the coolness of the stored water in the coat.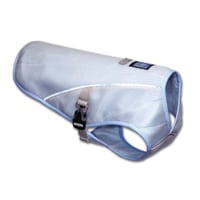 In addition, the light color of the fabric will reflect sunlight, and the inner layer stays cool next to your Tripawd's body.
Read our complete review here, and remember:
Order any two (or more) eligible Ruff Wear products* from the

Tripawds Gear Shop

and get a $10 rebate!
Thermoregulating Cooling Dog Beds
Cooling beds feel great on post-amputation incisions and they help dogs beat the heat, indoors or out.
Our Tripawds Gear Blog Beds Page has a huge assortment of thermoregulating dog beds for cold and hot weather.
Just place the bed in the coolest spot in the house or yard, add water and watch your dog relax on the cool, easily cleaned surface.
Bandana Neck Coolers
Bandana neck coolers are a budget-friendly way for your dog to stay cool. They work by soaking the bandana in icy cold water. Here are a couple of ideas:
The
Miracool Dog Bandana is designed with Cooling Crystals at the neckline. Just soak in water for a few minutes then tie on your dog to keep his pulse points and coat moist and cool.
The Kool Collar helps dogs chill by with the use of an icy Kool Tube.

The Kool Collar is filled with water, frozen, then slowly melts and acts as artificial perspiration to keep your dog cool. Use the Kool Collar indoors with included reusable freezer tube or on the road with ice cubes.
The Kool Collar is washable, easy to use and re-use, non-toxic, non-staining. Adjustable 17 1/2″ to 24″. Includes one Kool Tube.
How are you helping your Tripawd stay cool during the heatwave? We want to hear about it, so let us know in the comments section below.
Save