Tripawd Spokesdawg Wyatt Ray has loads of fun with the FitPAWS Paw Pods, a portable fitness tool that's improving his stamina, proprioception (body awareness) and balance while strengthening his core and leg muscles.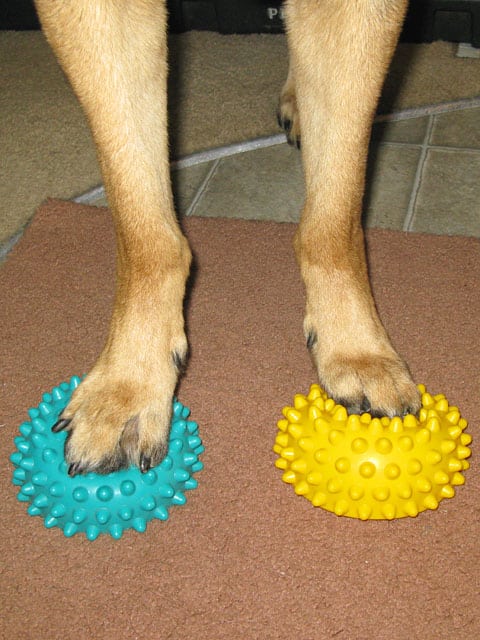 Since our last FitPAWS Paw Pods post, Wyatt has been working with the Paw Pods several times a week. He thinks this workout is a game and loves getting to eat so many treats during our brief five to ten minute sessions.
Improvements we've noticed include:
He lets us touch his feet more often without pulling away.

The muscles in his remaining rear leg look more well-defined.
His rear end doesn't dip as low as it used to after a few minutes of walking.

And finally, he knows how to stand on the front two Paw Pods without a problem!
Wyatt has tried to stand on three paw pods simultaneously, but he's not there yet. As we suspected, using all three is something reserved for only the most fit Tripawds. We know he'll get there, but for now, we're so pleased with how well FitPAWS Paw Pods have worked for him, and for us.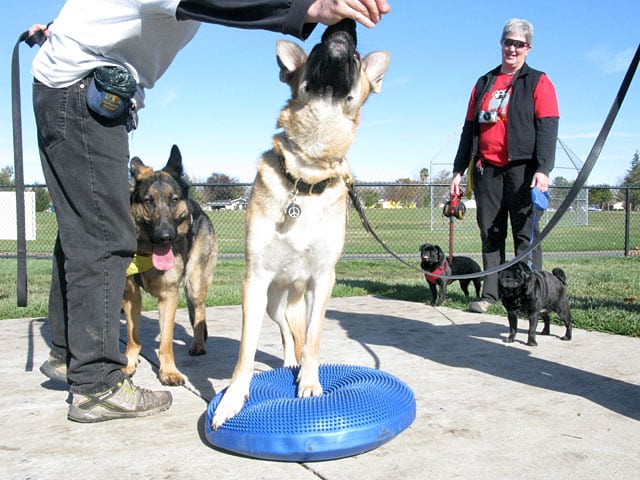 While we love the FitPAWS Balance Disc because it has more surface area to work with and is easier for new Tripawds to use, the FitPAWS Paw Pods are perfect for using inside our tiny RV's living quarters.
FitPAWS Paw Pods are so portable, you can take them along while traveling. And at $40.95 including shipping, the price can't be beat!
When it comes to an advanced workout for experienced, Tripawds, we give a hearty "Paws Up!" to FitPAWS Paw Pods!
See all of FitPAWS great fitness products for dogs on our Tripawds Gear Blog Fitness Page.