There are many solutions to help improve traction for Tripawds. Poor traction can injure amputee dogs. They may fall on slippery floors indoors or trip on unstable surfaces outside. Consider these best recommendations to improve traction for Tripawds.
Help Improve Traction for Three Legged Dogs on Slick Floors
Hardwood floors are tricky for all dogs with mobility challenges, but one less leg makes traction especially hard for a Tripawd. We strongly suggest putting down non-slip surfaces throughout any area of the house with slick wood or tile floors.
Read this Tripawds News Blog post sharing some helpful no-slip floor ideas. Below are some favorite recommendations. For helpful feedback from others, review this great conversation about non-slip flooring in our Discussion Forums.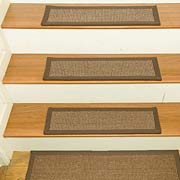 Sisal Carpet Stair Treads With Landing Mat
Help prevent falls on slippery stairs! Protects hardwood and tile stairs from wear and tear, and adds traction to reduce risk of slipping on stairs. The NaturalAreaRugs Stair Treads are made with attractive and durable 100% Natural Sisal with Fossil Binding Cotton Border. Helps reduce slips on your hardwood stairs. Stain & soil resistant for easy cleaning.
Interlocking Foam Floor Mat Tiles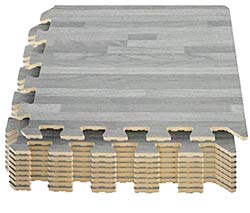 Foam floor mats are an excellent solution for traction and comfort. The interlocking foam tiles protect the floor and help prevent falls. They are washable, available in various stylish colors and designs and can be combined or rearranged to fit a variety of areas.
Looking for easy traction to help Tripawds on slippery floors? Use this simple DIY solution to protect new amputee dogs or cats from injury due to slipping on hardwood floors. Here's an easy way to help dogs after amputation: bulk yoga mats. Read full review here.
Best Traction Help for Three-Legged Dog Paws
Different styles of dog socks and booties are available to help protect three legged dog paws from pressure sores, and prevent injury outdoors. The fewer the accidental falls, the healthier the joints and hips. Below are some popular solutions you may find helpful for your pup from the Tripawds Gear Shop.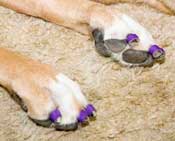 Dr Buzby's Toe Grips
ToeGrips are natural rubber rings that slide onto dogs' toenails and adhere by friction. Their nonslip material grips the floor in a way that a dog's hard toenails cannot, providing instant traction on hardwood/tile/linoleum floors and stairs. (Read Tripawds Review)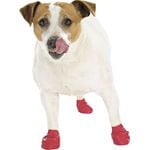 Pawz Dog Natural Rubber Booties
Pawz anti-slip dog boots help three legged dogs gain traction on slippery floors after surgery. Both reusable and disposable, PAWz booties also help keep injured paws clean and prent licking of sores.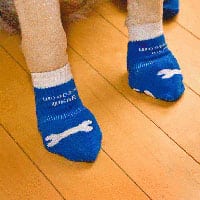 Power Paws Traction Socks for Dogs

Power Paws Traction Socks for Dogs from Woodrow Wear help provide traction for three legged and mobility challenged dogs on hardwood floors and other slippery surfaces. These affordable dog booties are fun and functional with many sizes and styles to choose from.
Anti-Slip Dog Socks Pet Paw Protection for Indoor Wear by PupTeck protect your hardwood floors, are easy to wear, and are made of high quality cotton, extremely comfortable for your pet. Provides Traction: These socks are made using the latest anti-slip grip technology, rubber paw printed on the soles to provide extra traction.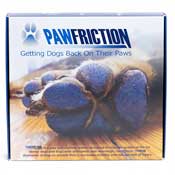 Paw Friction
Increases Paw Pad Traction for Senior/Special Needs Dogs Helps your dog get up and around on smooth hardwood floors Improves your Dog's Confidence and Quality of Life Custom Fit Coating System Works For Any Size Dog

Musher's Secret Paw Wax
Since it can be used inside without staining furniture or floors, some Tripawd pawrents recommend using Musher's Secret as an anti-slip coating instead of socks, boots or foot spray.
Show Foot Anti-Slip Paw Spray
Help your three legged dog navigate slippery floors and surfaces with Bio Groom Show Foot Anti Slip spray for dogs.
Ruff Wear Grip Trex™ Bark'n Boots: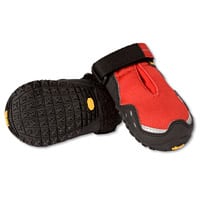 For active Tripawds needing extra traction in rain, snow or on the trail. Grip Trex boots feature an upper inspired by human shoes, and a high performance Vibram® sole. Go anywhere with Grip Trex, and get back to outdoorsy fun!
Ruff Wear Skyliner Bark'n Boots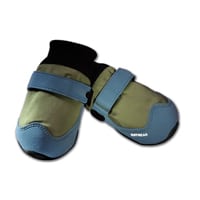 Skyliner boots provide everyday traction for slippery floors and paw protection from heat, cold, abrasive surfaces, road chemicals/salt, and unseen hazards. Try them on your pup, and get outdoors on a walk around the block or on the trail.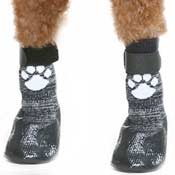 KOOLTAIL Anti Slip Waterproof Traction Control Dog Socks
Non-skid socks with thin rubber around the bottom, improves your dog's traction on slippery surfaces (tile/hardwood floor). The waterproof tread material keeps dog feet dry even if on a wet ground. Velcro straps help keep the socks on the dog's feet all the time. Provide helpful traction to ailing dogs, ideal for recovery.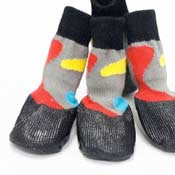 Colorfulhouse Nonslip Outdoor Dog Socks
These non-slip traction socks for small to large dogs feature a rubberized sole and Velcro straps to help keep them on, making them better suited for short term outdoor use.