Getting your Tripawd to be stronger and more fit doesn't have to break a sweat, or cost a lot of bones. A simple dog agility tool called a "buja board" (also known as a Rocker or Wobble Board), is an inexpensive strengthening device you can easily make yourself.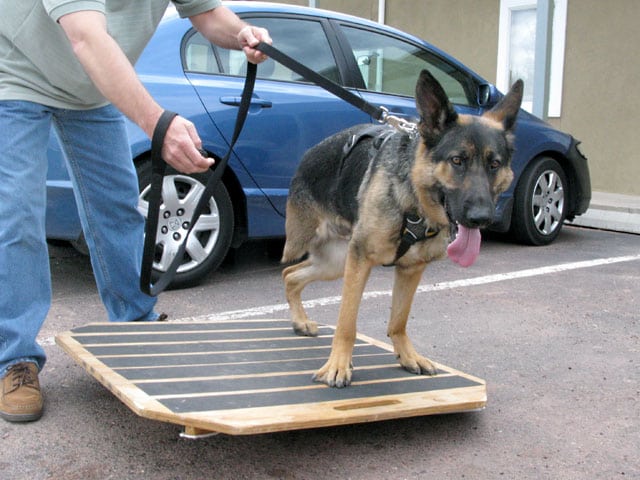 Dr. Laura Hady, a veterinarian who is board certified in canine physical therapy, demonstrates the homemade Buja board she uses for her clients, in this video with Wyatt.
This is the first time that Wyatt has ever seen a Buja board:
A Buja board helps your dog build confidence on uneven terrain. It strengthens muscles, and improves balance too. Tripawd agility dogs like Maggie know all about the impawtance of being balanced. Maggie says "a little bit of PT work, goes a long ways for our Tripawds!"
If you're short on time, you can also buy a manufactured 30 inch buja board. But if you want to build one, there are a few different ways you can construct it. Some boards have an "X" underneath like Dr. Hady's, while others use a ball underneath to create the wobble. For Tripawds, we strongly recommend putting anti-slip grip tape on top.
Here are directions for building one and introducing your Tripawd to the concept:
How to Build Your Dog's Confidence with a Buja Board
Cando Wobble Board For Dogs
Not that handy with a saw? Consider this ready-made adjustable wobble board for core strengthening dog exercises right out of the box.