Nothing makes a new Tripawd crazier than restricting their activity. Asking our animals to stay calm and quiet during recovery or while healing from an injury can be challenging. But these cat and dog brain games may be exactly what you need to exercise your pet's mind and rest the body.
Encourage Tripawds Mental Fitness with Cat and Dog Brain Games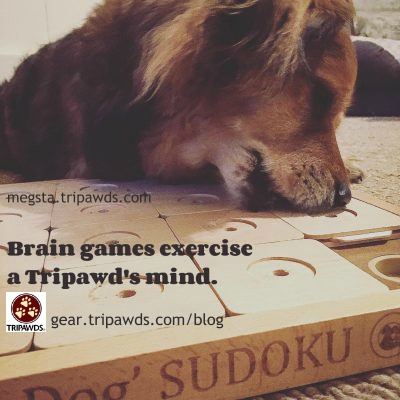 The Meg-a-Star is one brilliant canine. But like any Tripawd, her activity must be carefully monitored to reduce her risk of joint stress and muscle strain. That's why her mum, Clare, chooses the most complex and challenging cat and dog brain games that help her Meg-a-Brain work off extra energy. When Meg blogged about the Cat and Dog' SUDOKU® game by My Intillegent Pets®. We were so intrigued!

This is one of many complex, sturdy and fun cat and dog brain games made by the company. Sudoku is available in four different sizes for dogs and one for cats, with three levels of difficulty from "basic" to "expert" playing skills.
We love how the game pieces are made of polypropylene, which has been certified as suitable for contact with edibles. Use dry food for easy clean-up.
Step 1: Hide the treats in the indentations underneath the tiles.
Step 2: Encourage your Tripawd to find the treats by moving the tiles.
Step 3: Praise your Tripawd every time a tile is moved and treat is found.
And don't forget to track how much your Tripawd has eaten while playing, then subtract that amount from their daily feeding.
Of course you'll find the Cat and Dog Sudoku game on Amazon, along with all of Intelligent Pets' other high quality, high IQ puzzles. Tripawds gets a small commission from everything you buy on Amazon, so thanks for supporting our efforts!
We hope you'll give My Intelligent Pets games a try. If you do, let us know how your Tripawd enjoys it.
Recommended Reading:
More great interactive dog and cat brain games for Tripawds and Quadpawds alike.