Farabloc is a holistic, drug-free approach for alleviating phantom limb pain relief in animals and people alike.  It works by shielding the body from man-made and environmental electromagnetic fields (EMF) that contribute to phantom pain attacks and general pain in the body such as migraines.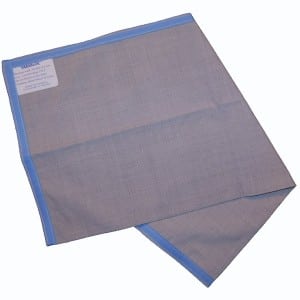 Read how Farabloc works and read the following real-life testimonials that explain how it helped these happy customers' dogs.  One pawrent even writes that they believe it helped slow tumor growth in their dog's leg.
You may decide that it's right for you and your Tripawd.
Less Pain, Sleeping Better
Our English Bulldog also sleeps on a sheet made from Farabloc fabric. When he is on our bed he will position himself so he is on the sheet and I am off. We have now 2 Farabloc sheets so we all have it. Kobe sleeps more sound and is calmer. At times I have doubled his sheet if his ears are bad. When I had my brother wrap a sheet around him the dog went up and tried to take it from him. If the sheet is on top he ruffles it up and puts his head on it like a pillow. Cuts down on the vet bills!

I am not sure how it is helping him but he appears to be drawn to it.

Teri, Richmond, BC
Human Research and Technology Translates to Help for Your Dog
My 11 year old flat coat retriever, Dallas, has arthritis in her back left leg from an injury she had when she was pup.

As she ages, her limp gets more prominent and restricts her walking /running.

She still loves the beach and water and would not stop the pouncing and retrieving sticks in the water. It would take her two days to be able to walk a block after a day at the beach.

We started using Farabloc fabric that she would lie on at night which seemed to help- when she stayed on her blanket.

There was some improvement within a week. Then we used a piece of Farabloc fabric as a wrap around her stiff joint for the night. Within 4 days she was walking with barely a limp.

Now when we go to the beach she will run and play in the water and still be able to jump back into the car. We wrap her leg at night with the fabric and she is up and moving the next day!

The Farabloc fabric works fantastic for Dallas and her arthritis.

Kathy Wilson, BC

Abby's Farabloc Success

"Abby is our Female German Shepherd dog who is now approximately 10 ½ years old. In May of 2010 we noticed a small lump on her left front leg at the ankle joint. We took her to our vet and the lump was biopsied with a needle aspiration and it tested positive for cancer. We of course were devastated and she was taken to a veterinary specialty hospital and surgery was done to try and remove the tumor.

The tumor could not be removed completely and it was biopsied completely and the report came back with the diagnosis Canine Fibrosarcoma. It was classified as a low grade tumor. The Veterinary surgeon who had done the operation recommended amputation of the leg to prevent the cancer from spreading. He told us that low grade fibrosarcoma tumors have a lower chance of spreading, but they are invasive tumors that will damage tissue as they grow in the location of the tumor and will eventually require amputation. He told us that in his experience tumors of this type usually grow to the size requiring amputation due to tissue damage caused by the tumor in 4 to 6 months. He had on the rare occasion seen them take as long as a year to grow to the size requiring amputation and sometimes they are more aggressive and the time can be as short as 6 to 8 weeks. He believed that Abby's tumor was aggressive because it had grown in the few days since he first saw her and the day of the surgery. His recommendation was to do the amputation as quickly as possible to prevent possible spread of the cancer. Why run the risk of it spreading since it will require amputation soon anyway, and dogs do really well on three legs.

After doing our own research and consulting with other specialists we decided the risk of the cancer spreading was minimal in low grade fibrosarcoma tumors on the leg. It was our expectation that we would have to amputate at some time in the near future. We did research on amputation and saw that phantom pain syndrome was a significant issue in canine amputation. Farabloc was a product that had been used in human phantom pain and we contacted the company with questions regarding Farabloc for its possible use for chronic pain for dogs. Don Nixdorf, a representative of Farabloc, visited our home and discussed the information humans were finding. We asked him to provide a wrap designed for Abby that was a simple tensor style application that attached with Velcro. When we first put the Farabloc wrap on Abby she immediately had a very strong reaction to it. She began to run around, wanting to play, jump and she seemed very excited in a positive way. This was extremely unusual behavior and it was very surprising to us. We began using the wrap on a regular basis. She wore it all of the time, day and night.

It only came off for her walks and play time outside. She did not seem bothered or even to notice the wrap at all and it has not been an issue for her that she has the wrap on her leg. We chose to apply the wrap initially for Abby's post surgery recovery but as time went by we chose to leave it on to observe since it was just a fabric and Abby behaved as nothing was bothering her.

Abby's tumor progressed very slowly over the next eighteen months and its increase in size was only slightly noticeable. We of course were very happy that Abby's tumor growth had progressed so slowly, in fact slower than the most optimistic prognosis we had been given. She continued to run and play on all four legs and seemed to have no problems at all with her leg.

In October, 2011 a Veterinary Oncologist who specialized in canine cancer started a practice in our community. We took Abby to see her in the hope that she could help. The Veterinary Oncologist was surprised that Abby's tumor had grown so slowly and she said Abby was very lucky. She said cancer can be unpredictable and sometimes it does progress more slowly than expected. She put Abby on a chemotherapy treatment plan called Metrononmic Therapy. This is a low dose Cyclophosphamide and Metacam protocol that is taken orally by the dog. She told us that in her opinion Abby's tumor would mostly likely progress over the next 4 to 6 months to the point where lameness, pain or tumor degradation causing an untreatable open wound would require amputation. Hopefully the metronomic therapy would buy her a little time, but it would not be a "cure".

Abby has continued on the Metronomic Therapy protocol and daily wearing of the Farabloc wrap for 2 ½ years, and it will be 4 years since the original diagnosis next month.. She has been using the Farabloc wrap almost the entire 4 year time period.

She has not been cured of cancer, but the progress of the tumor size is very slow. She is still running and playing on all four legs and seems to have no issues with the small tumor lump on her leg at the ankle joint. The oncologist says "we are in unknown territory" both on the length of time the tumor has slowly progressed and the length of time she has been on the Chemotherapy medication.

It is difficult to say what, if anything, has contributed to the slow progress of her fibrosarcoma cancer. It may be the chemotherapy, the Farabloc, or a combination of the two. It may be prayers or that she is just lucky and had a tumor that seems to grow very slowly compared to other tumors of the same type. Our motto has been, "if it's not broke, don't fix it" and we are continuing with the Farabloc Wrap and the Metronomic Therapy. It has been almost 4 years now and we just hope for as much quality time for Abby as possible."

Gary Bowden, Vancouver BC Canada
These are actual testimonials submitted by Tripawd pawrents who have tried Farabloc. If you have specific questions, the Farabloc company is ready to answer them. Please feel free to contact Dr. Don Nixdorf, DC directly. Dr. Nixdorf is in private practice, on the Farabloc board of directors as well as former Executive Director of the British Columbia Chiropractic Association.
If you would like to give it a go yourself, Shop for the Farabloc product here or contact us today!
Recommended Reading
Tripawds Get Phantom Pain Relief with Farabloc Drug-Free Therapy
Tripawd Pawrents Describe Post-Amputation Pain Relief with Farabloc
The Electromagnetic Field and Phantom Limb Pain Connection in Animals, People