Canine rehabilitation therapy has come a long way over the last few years and more physical therapy options are available all the time. With so many options to choose from, how does a Tripawd pawrent know where to begin?
Tripawd Cadence (aka, trifod) asked in our Hopping Around Discussion Forum:
"I looked at the gear and there is a lot for the core strengthening, but I don't know where to begin. I want to try to be economical about it and not buy everything, but start with one or two basics and maybe add more later if I need too."
How to Start Your At-Home Dog Rehab Routine
Working on your Tripawds' rehab routine at home isn't complicated, but according to Deanna Rodgers, PT, CCRP of Good Life Physical Therapy for Animals in Fort Collins, Colorado, ideally you want to work with a physical therapist first. Rogers advises finding a dog rehab practitioner who will work with you to meet your goal of at-home therapy.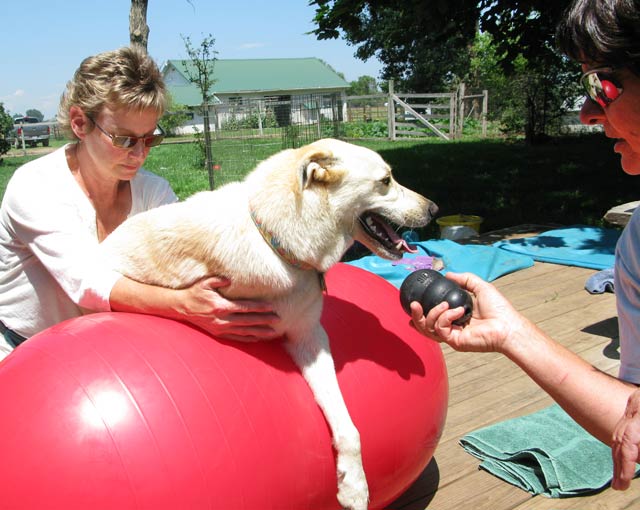 Rogers says that when she meets with a new client, she wants to know what the owner's goals are for their dog. If yours is to do the exercises at home, Rogers will break this goal down into managable steps to help you reach it. A good practitioner like Rogers will give owners the tools necessary to ensure lifelong fitness.
She adds that one physical therapy session is not enough and occasional check-ins are advisable. "It's beneficial to have the physical therapist show you things you can do," she says, "to ensure you'e doing them right and to see how your dog has (or hasn't) improved."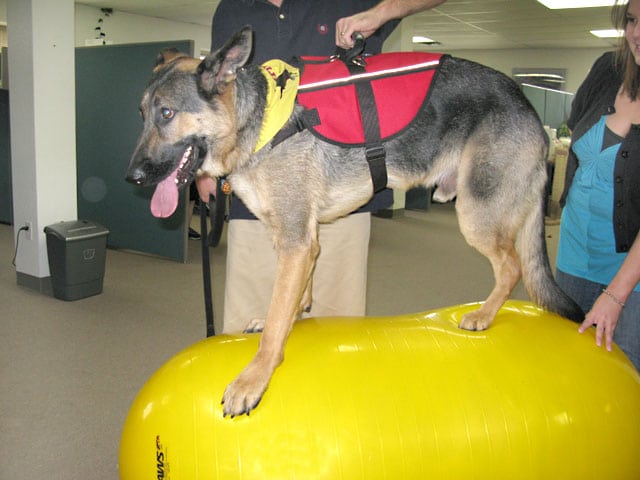 After your physical therapist shows you how to do at-home doggie rehab, ideally you and your dog will want to do these exercises with a partner. "The quality of movement may be better with two people working at the same time," she says.
You can see in this video that Rogers is using the FitPAWS Peanut for Tripawd Spree's workout. Rogers and  Connie Fredman of Canine Health Resort are both working with Spree to give her the best workout possible. One person holds the Kong, while the other steadies the ball and ensures Spree is doing her exercises correctly.
Please note that this video depicts advanced canine rehab stretching. Always consult a CCRP or CCRT before exercising with your dog at home.
As you can see, Spree is a strong, healthy Tripawd thanks to regular canine rehabilitation therapy!
See all FitPAWS Peanutsize and pricing
Recommended Reading:
NOTE: We are not veterinarians. All information provided here is based only on our own experiences caring for Jerry and Wyatt, and the experiences of other Tripawds members. Please consult your vet or do further research before implementing any new fitness regimen into your dog's treatment plan.