Finally, a winter dog coat with built-in harness! The good folks at PAWZ have developed a new dog coat with an integrated harness to help provide support and comfort during cool and wet winter months.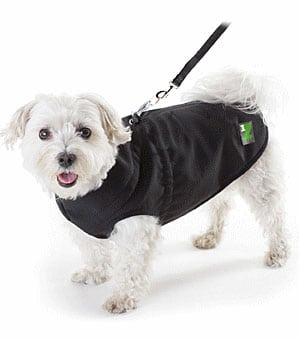 The 1Z Dog Coat Harness is a high-tech coat designed with the same high performance textiles found in world class ski jackets. The 1Z Coat is sturdy, warm, waterproof, and washable. It combines innovative new materials with the exclusive built-in harness system PAWZ designed for an easy, secure and comfortable fit. No more stressing out over putting a bulky harness under or over your dog's winter coat. Just attach your leash and you are ready to go.
SIZE
1Z Dog Coat
LENGTH
(neck to base of tail)
GIRTH
(around the torso)

10

10″

17″

12

12″

20″

14

14″

22″

16

16″

25″

18

18″

28″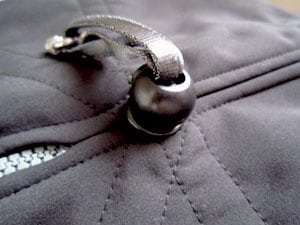 The 1Z Dog Coat Harness offers warmth and keeps dogs dry while addressing the challenge of putting a harness on your dog in addition to a sweater or jacket. This warm waterproof coat has internal webbing straps that run across the chest and behind the front legs to provide additional support when necessary.
The one thing lacking from this harness is a handle. The strong leash attachment point, however, should provide ample support when assisting three legged dogs up or down stairs.
http://www.youtube.com/watch?v=-IxYr1l8ZQc
1z Dog Coat Availability
The 1Z Dog Coat Harness is available in five different sizes from the PAWZ Amazon Store.
Don't miss the Tripawds Gear blog review of PAWZ dog boots to help provide traction for three legged dogs on slippery floors!