Dog boots are a great idea for Tripawds, especially active ones who traverse on many different surfaces.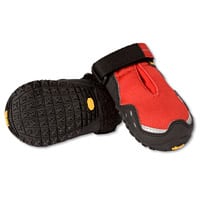 But getting the right fit can mean the difference between boots that provide traction and safety versus boots that slip and create a tripping hazard. Even being off by 1/4″ can create problems, so always measure carefully.
Ruff Wear, makers of the Skyliner and Bark N' Boots dog shoes, just posted a fantastic video that will show you how to measure your dog's feet for boots.
If you are considering ordering boots to help your Tripawd feel  more confident on slick, hot or icy surfaces, please watch this video and follow all instructions before ordering.
Remember, not every dog should wear boots, especially those with neurological challenges and balance issues. Always consult with your vet or rehabilitation therapist before choosing footwear for your Tripawd.
If your medical professional gives you the g0 ahead for boots, Tripawds recommends the following dog boots and traction socks:
Ruff Wear Grip Trex & Skyliner Bark'n Boots for Dogs