Was your Tripawd's amputation incision bandaged? Did she come home wearing the Cone of Shame?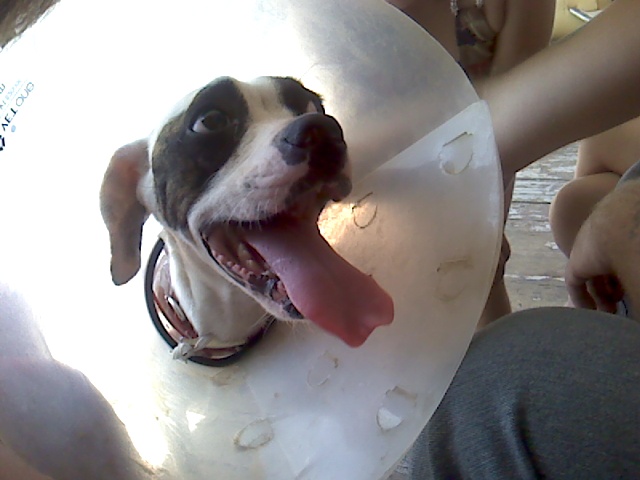 In our 2010 Tripawds Amputation and Cancer Care Survey, we learned that most Tripawds came home without a bandage on the incision.
And while nearly all Tripawds come home with a dreaded Cone of Shame, realistically, not all dogs will tolerate the traditional plastic Cone. They're big and bulky and it's hard enough learning how to walk again without wearing one of these devices.
Although you need to do your best to ensure that your dog wears it continuously while the incision heals (generally for two weeks), if you find that your dog melts down while wearing one, there are alternatives you can try:
Cone of Shame Alternatives

Bite Not Collar is great for rear-leg amputees since it protects the back, rump, base of tail, flanks, chest, abdomen and genitals.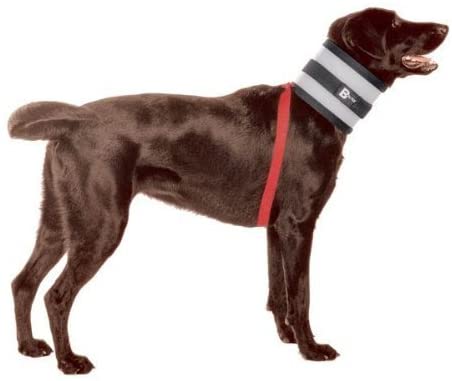 It also stops small and medium dogs from licking their feet. Wraps snugly around the animal's neck and should be wide enough to extend from behind the ear to the top of the shoulder.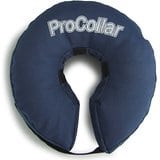 ProCollar Premium Inflatable Protective Collar, a donut-shaped, inflatable collar that goes around your dog's neck but doesn't block your Tripawd's peripheral vision. Tripawds have reported that rear-leg amputees can still reach the incision when wearing one, however.

Comfy Cone Pet E-Collar, which is made of foam-backed nylon and has Velcro closures that adjusts to many different sizes.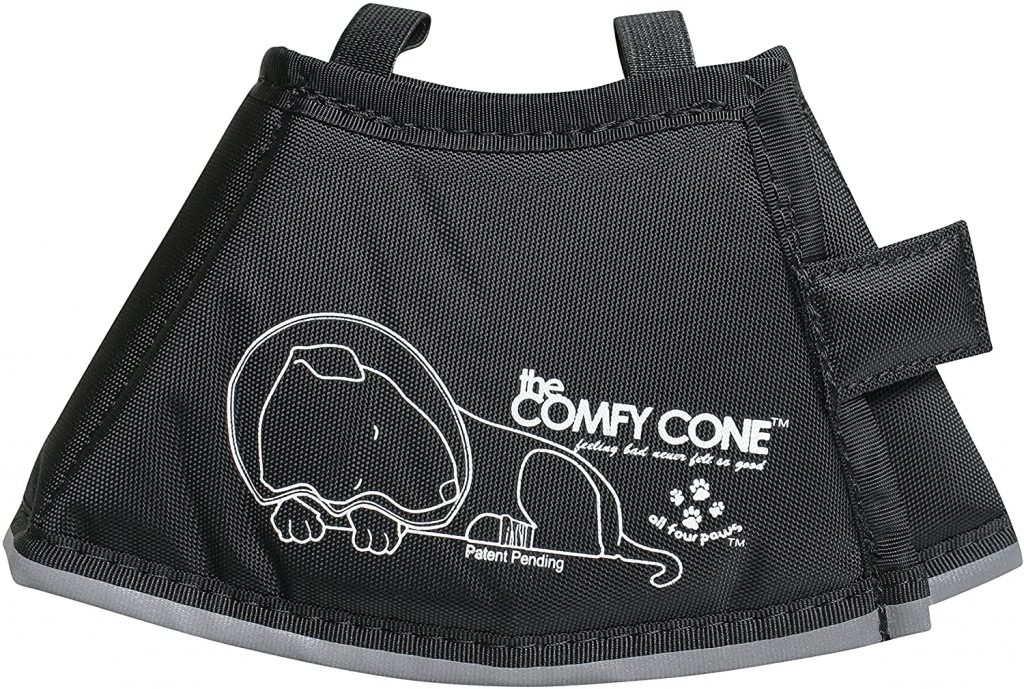 It's water resistant and repellent and easy to wipe clean. The cone can be folded back for added freedom while eating and drinking or when checking wounds and irratations.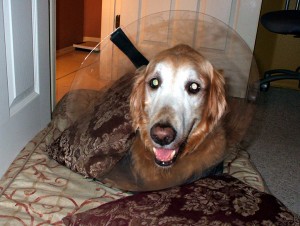 Clear Collars: Try one of these nifty Transparent E-Collars that Spirit Jake wore.
Because the collars are clear, technically a dog's peripheral vision won't be impacted. However they are still rigid so keep that in mind.
More Wound Management Tips
Modify a Muzzle: Put the upper part of pantyhose over the cage part and secure it with tape
Use a Bath Towel: Get a large towel, roll it, then wrap around your dog's neck (loosely but not too loose that she can slip away). The thick towel can serve as a barrier between her neck/chin and the incision.
Booties like PAWZ or Ruff Wear's Grip Trex can be used to keep your dog's paws from scratching at the site, but dogs with other degenerative mobility issues should not use them.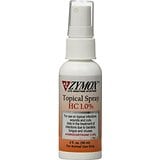 Even with a cone or cone alternative, remember that stitches will become dry and your dog will want to scratch at them. If you see this starting to happen you can try:
An Anti-Inflammatory Spray: Zymox Pet Spray with Hydrocortisone is one. You can also try other over the counter  human medicines to relieve itching, such as Benadryl and Chlorpheniramine. Be sure to check with your vet about proper dosage for yoru dog.
Pet Licking Deterrent: Many Tripawds members have reported success using a Bitter Apple Spray to help prevent licking and chewing.
Do you have a no-bite solution not mentioned here? If so, be sure to comment and let us know what it is!
Visit our Discussion Forums for other tips that pawrents have tried.