Check out these new savings on some cool items for hot summer days from the recent FetchDog newsletter …
How to keep dogs cool in summer heat

Ice Lick Dog Toy – Only $29.75
Summer heat can be inescapable for your dog – especially under a thick fur coat. Fortunately, this Ice Lick provides cool relief and irresistible fun. Simply freeze his favorite treats and dog toys into the bucket mold, insert the base in your lawn and let your dog chill out all summer long.
Simply fill and freeze bucket mold with dog toys and treats
Insert pronged base into your lawn
Refill the bucket and repeat
Try this cool convenient Ice Lick from FetchDog with Holly's salmon popsicle recipe for  a healthy summertime treat, and let your dog cool off with a mission!
NOTE: These FetchDog Deals have been discontinued.
Cool-It Dog Bandana – Only $29.75
This is one dog scarf that's every bit as cool as it looks. Made of an innovative, chemical-free fabric, it acts as your dog's portable A/C. Simply soak, wring and snap, and it delivers instant, cooling relief. When it warms up, wring and snap for a repeat performance.
Active motion "re-cools" with each snap
Non-toxic and safe, without chemicals or polymers
Unique construction and performance lasts wash after wash
33″ length
Fits 16″ – 24″ neck
Auto-Fresh Dog Water Fountain – Reduced to $85.00
Smart sonar sensing technology triggers the automatic pet fountain to begin automatically dispensing a cool, clean stream of fresh drinking water when your dog comes within three feet, and turns the fountain off when your pet leaves. You'll never worry again about what your dog's been drinking!
Operates automatically, providing fresh water when your pet approaches
Accommodates your dog day and night for up to one year on just four C-cell batteries
Connects quickly and easily to any outdoor faucet
Includes a flow-through connector to accommodate your garden hose as well
Prices subject to change. All purchases help support ongoing efforts to maintain the Tripawds community.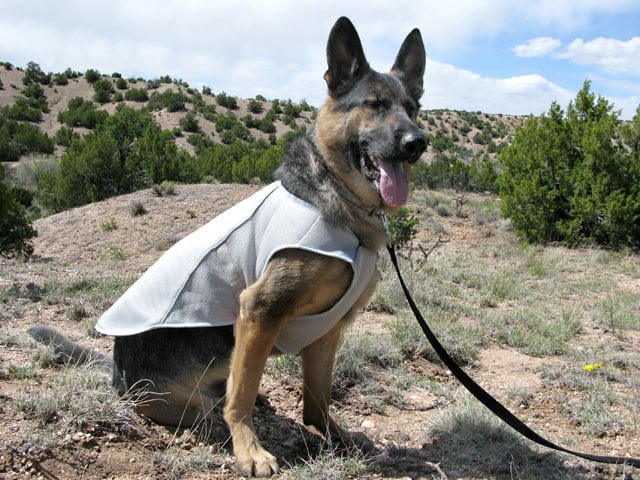 Read Wyatt's Ruff Wear Swamp Cooler review and keep dogs cool in hot weather! This cooling vest for dogs is ideal for providing cool comfort for new tripawds on the mend. Ruff Wear Float Coats are the best dog life jackets for allowing three legged dogs to swim safely, longer and farther too!
Get the FetchDog Catalog! It's FREE.
Save up to 75% on FetchDog Sale Items. ACT NOW!