If you're thinking about buying affordable dog boots to help your Tripawd with traction, here are some things to consider:
Boots are great for helping Tripawds navigate challenging surfaces, but not all dogs will wear them. Some, like Wyatt, will take to them immediately and not mind them. Other dogs won't budge, will try to chew them off, or fight you so you can't put them on.
It also takes a mobile dog to wear boots. We've been told by a rehabilitation therapist that dogs with degenerative nerve issues should not wear thick boots because the soles impair their already limited ability to sense where their feet are. Tripawds who can otherwise get around fine usually do well in boots, if they will tolerate them and the boots are properly fitted.
If you have a dog with mobility issues, or just want to see if your dog will tolerate having something on her feet, there's a great product you can try, PAWZ Dog Boots. Tripawd Maggie recommends them, and you might like them too!
PRODUCT REVIEW AT A GLANCE
Wags
At less than $20, these affordable dog boots an inexpensive way to test your Tripawd's tolerance for boots
Made with durable material
Reusable, disposable and waterproof
Thin material feels natrual, provides dogs a sense of balance
Many sizes available for even the tiniest dogs
Stays put without straps or Velcro
Easy to carry in your wallet; great when encountering unexpected treacherous surfaces
Can be worn while swimming
Whimpers
Not sure how long each one will last beyond first couple of uses
Must keep dog's nails trimmed or risk prematurely puncturing the boot
We think they look goofy, but we're willing to overlook that considering the benefits
PAWZ PRODUCT REVIEW
PAWZ Dog Boots are natural rubber booties that slip over your dog's feet. They look like little rubber socks that you slip on over their paws without zippers or velcro closures. They're fairly inexpensive, reusable, waterproof and offer great paw protection for hot and cold surfaces.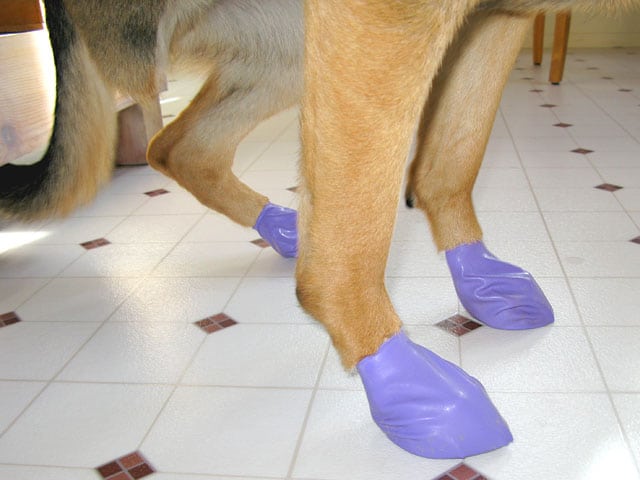 The Pawz company recently sent our Wyatt Ray three booties to try out. Upon opening the package, it seemed the boots were far too small for his huge feet. But as we slipped them on his feet, Pawz went on just fine. We also thought that his too-long nails would easily puncture the rubber, but we were wrong. Only one boot got a tiny puncture; the rest resisted puncturing.
Wyatt didn't seem to mind wearing them. He wore them during his obedience class and the Pawz boots provided fantastic traction, even when running through a water puddle. We also had him run around our kitchen with them on, and again, they provided all the slip resistance he needed to navigate safely.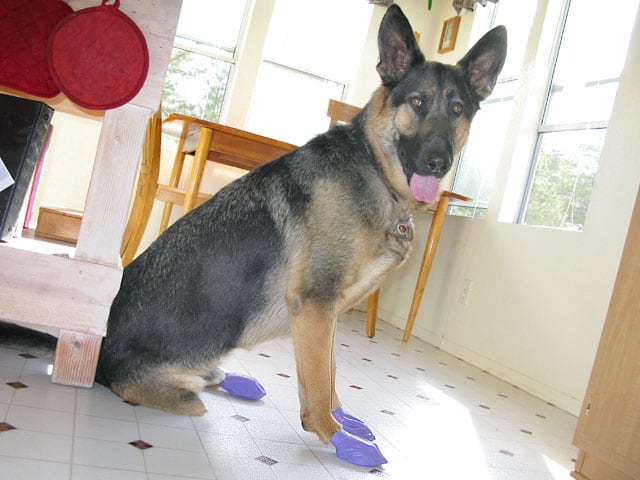 PAWZ Affordable Dog Boots are marketed as being reusable and disposable. We're not exactly sure how many uses a dog can get out of them, since Wyatt has only worn them twice, but Pawz come 12 to a package and the manufacturer says "each boot may be worn many times."
We like how Pawz are small and thin enough to carry in your wallet. With Pawz dog traction boots you're always prepared for unexpected slippery or treacherous surfaces with your Tripawd.
All in all, we give these inexpensive little boots a "Three Pawz Up!" Below you will find sizing information and links to various online sources where you can buy them. Purchases made through these links help support efforts to maintain the Tripawds community.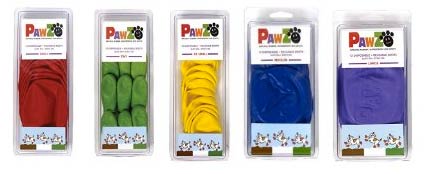 Pawz Dog Traction Boots Sizing & Recommended Breeds
Tiny (light green): For paws less than 7/8″
Brussels Griffon, Chinese Crested, Maltese, Toy Fox Terrier
XX-Small (yellow): For paws 7/8″ – 1 1/4″
Chihuahua, Papillon, Teacup Poodle, Teacup Yorkie
X-Small (orange): For paws 1″ – 1 1/2″
Cavalier King Charles Spaniel, Havanese, Italian Greyhound, Pug, Toy Poodle, Shih Tzu
Small (red): For paws 1 1/2″ – 2″
Border Terrier, Boston Terrier, Cairn Terrier, Fox Terrier, Shiba Inu, French Bulldog
Medium (blue): For paws 2″ – 3″
Beagle, Bichon Frise, Cocker Spaniel, Corgi, Lhasa Apso, Greyhound
Large (purple): For paws 3″ – 4″
Airedale Terrier, Akita, Basset Hound, Bulldog, Chow Chow, Collie, Golden Retriever, Labrador Retriever
X-Large (dark green): For paws 4″ and up
Bernese Mountain Dog, Bullmastiff, Great Dane, Saint Bernard