This recent forum topic about confining dogs during amputation recovery got us thinking … please find below links for more information about recommended Pet Gear dog crates to keep recovering dogs confined and safe.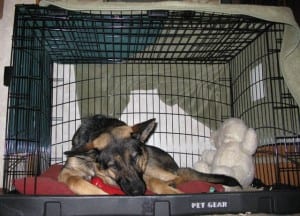 Wyatt has a Pet Gear Crate which we prefer because of the extra large side opening. This is especially helpful for dogs recovering from surgery. With a bigger door that opens on the wide side of the crate – instead of the small doors found on the ends of most crates – new tripawds can maneuver in and out of the crate more easily. These Pet Gear crates are also collapsible and very portable which is perfect for Wyatt's mobile lifestyle.
Most vets will agree that it is important to keep dogs calm, quiet and confined during recovery from any major surgery. And a dog crate is ideal for limiting activity. In the wild, canines will often find a quite confined space away from the pack to heal from injury, so it's only natural too!