With this ongoing discussion about car ramps in the discussion forums, we thought we would share another solution we recently discovered for assisting tripawds into and out of vehicles.
Pet Loader® is the safe way to get dogs into your car, SUV, van, truck, trailer, or camper.
Wider and more stable than a ramp, Pet Loader's lower angle of ascent/decent and greater traction eliminates the fear man dog's have about entering a vehicle or using a ramp. Pet Loader car steps lightweight and fold down to a mere 7-1/4" high for easy portability and storage.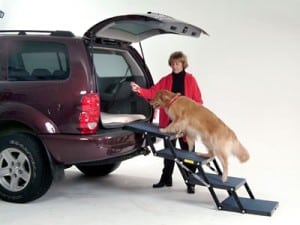 Tripawds, elderly dogs, and handicapped pets will especially appreciate Pet Loader's adjustable incline.
Most dogs will instinctively know how to use the Pet Loader steps as opposed to becoming familiar with using a new ramp.
With its accordion fold and built-in hand holds, Pet Loader is easy to pick up and transfer to another vehicle, or store.
Weighing only 21 pounds, Pet Loader folds to just 22" long, 18" wide and an amazingly short 7.5" high, small enough to fit in the under-the-seat compartment of many vans.
Dakota, A 90 pound Golden Retriever on the Pet Loader Mini for the small spaces and tight side entries of cross-over vehicles, the lightest Pet Loader
Pet Loader is available in three styles with various step counts. Visit PetLoader.com for complete details, order information and a demonstration video. This solution is ideal for SUVs, trucks, and other high step vehicles. An optional 5th step is available for exceptionally high trucks.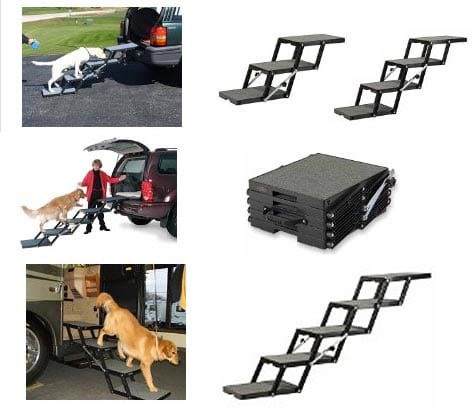 Do you have a favorite pet product you would like us to review? Would you like to write a testimonial or product review of your own? Contact Tripawds Today!