Description
The FitPAWS Peanut is ideal for helping three-legged dogs stay fit with:
Core strengthening
Increased range of motion and flexibility
Neuromuscular facilitation and sensory/perceptual stimulation (proproioception,)
Joint alignment, and balance control.
The TRAX™ Peanut surface prevents slipping and professional-grade, heavy-duty PVC material resists damage from dog nails. Saddle design (dipped center) provides stability. Modify the balance challenge by adding more or less air – do not over-inflate – more air increases the challenge, less air makes it easier.
Inflation pump and exercise guidelines included.
The FitPAWS Peanut is designed for advanced rehabilitation exercises. For best results and to prevent injury, please consult with a certified canine rehab therapist for recommended conditioning routine prior to use.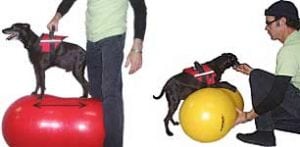 Peanut Size For Natural Dog Stance:
Up to 20" stance = 40, 50, 60 cm
Up to 24" stance = 50, 60 cm
Up to 30" stance = 60 cm
Peanut Size for Dog Shoulder Height:
16"-19" height = 40 cm
20"-23" height = 50 cm
24"-27" height = 60 cm
Peanut sizes indicated are the maximum inflation height. Never exceed the maximum height printed on the ball. Under-inflating FitPAWS products will increase the exercise difficulty. The firmer the ball, the easier the exercise.
Recommended for use with:
This item is available from FitPAWS or Clean Run. Tripawds earns no profit from sales via these sites.
Find FitPAWS products at Amazon Canada.