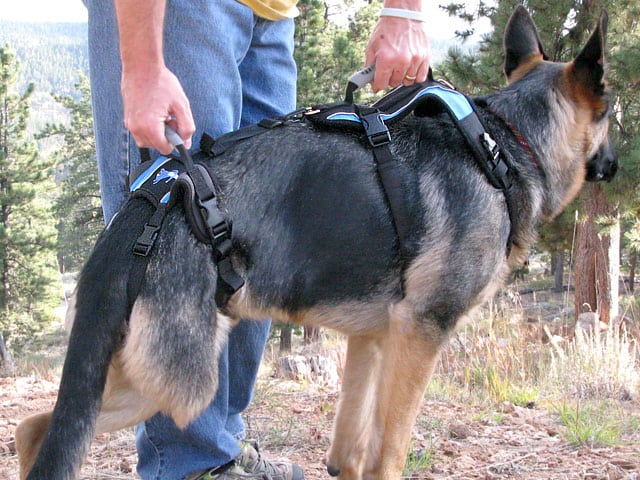 There's a new dog harness that's been brought to our attention, and we're really excited about it.
The Help 'Em Up Harness, by Blue Dog Designs, is a two-piece shoulder / hip combo mobility harness that was created just for dogs recovering from injuries or surgery, especially ones with weak or arthritic rear legs.
We are so excited about the Help 'Em Up Harness, because it's something that pawrents have requested for a long time; an assistive harness for three legged dogs with hip problems. Blue Dog Designs was kind enough to send us a demo.
---
NOTE: Tripawds no longer offers the Help 'em Up harness. Read why here, then if you believe this harness is right for you, please contact Blue Dog Designs directly.
---
Help 'Em Up Harness
Product Review at a Glance
Wags:
Lightweight yet supportive
Front and Rear sections can be worn together or separately
Provides ample support in rear end
Gives full, even body support when lifting dog
Non-intrusive design for maximum wearing time
Stylish, solid design
Whimpers:
Takes a few adjustments to get the right fit
Rear section might get soiled if dog experiences diarrhea
Rear section requires partial removal upon urination*
*A revised design that doesn't require unfastening is expected in 2010.
Uncomplicated, Whole Body Lift Design
The Help 'Em Up Harness stands out from the rest because of its unique "Hip Lift" design, which allows pawrents to safely and comfortably lift the entire pelvis at once.
With a handle on the front section, and one on the back, it distributes weight over large padded surfaces, allowing pawrents to lift the areas of greatest mass; the chest, and hind-quarters. Pawrents can easily provide immediate, even assistance where and when their Triapwd needs it most.
Comfortable and Lightweight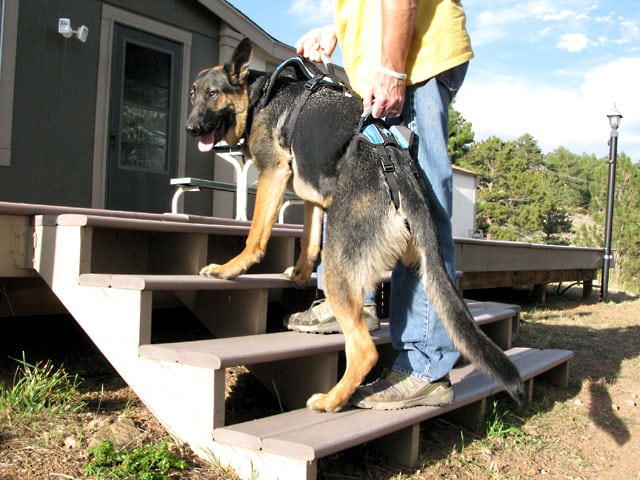 Modeled after mountain climbing gear, the harness is extremely supportive and ultra lightweight, and can be left on indefinitely. Dogs can easily play and romp while wearing it. The pieces are contoured around the dog's neck, legs and belly for extreme comfort.
The durable fabric is heavy-duty, washable, breathable and has microfleece lining to prevent chaffing. There's even reflective piping for those night walks with your Tripawd.
The Help 'Em Up Harness is an innovative design that we believe will meet the needs of a lot of our Tripawd friends. If you have an arthritic Tripawd, give it a try and let us know what you think.
The Help 'Em Up Harness comes in three sizes:
Small: Up to 60 pounds
Medium / Large: 60 – 95 pounds
Lg / XLg 95 – 130 pounds
Sizes are based on weight and dimensions of dogs of the most common breeds. Adjustable straps give flexibility in fitting. Download this PDF for detailed Help Em Up Harness fitting instructions.
Dogs with more dramatic dimensions may require combinations of component sizes to accommodate deeper chests and smaller waists, please contact us if you have this need.
Please note that we do not recommend using a harness on amputee dogs until all stitches have been removed and the surgery site has healed. Consult your veterinarian with any concerns. Stay tuned for our upcoming demonstration video! And be sure to read the Blue Dog Designs shipping and return policies.